Nottinghamshire dad shares "very, very fulfilling" experience of fostering full time
Monday, 18 September 2023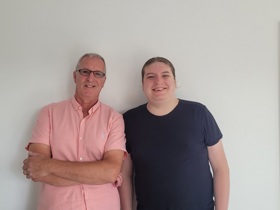 A caring Nottinghamshire dad has spoken about why he has taken on a 'very fulfilling' full-time fostering role after retiring from his long-term job.
Mark, 60, had been involved in fostering on a part-time role for six years until earlier this year when he decided to leave the job he had done for nearly two decades.
He said: "Until six months ago. I was working full time. I've been doing the same job for 19 years.
"I've always wanted to do full time fostering, but the opportunities never arose financially.
"An opportunity came up in January where I could finish work completely. Now I do this full time, I feel very privileged.
"I can now be a part of these children's lives and be at home for our children, and, at my age I can do this full time and not have to go to work."
With wife Amy, Mark has fostered youngsters alongside raising four birth children - whose ages range from 10 to 18.
"Our family became a foster caring family around about six years ago," he said.
"We have four birth children of our own. At the moment we are fostering two young babies of six months old who are just starting weaning, which is great fun. It's something we really, really enjoy doing."
Mark has revealed how his birth children, including son Daniel, 18, have benefitted from their experience of growing up in a fostering family.
"I think having a large family in this situation fits in with us very well," he said.
"We have a calm, grown up household and fostering for us as a family has been a very positive thing for us to do.
"Our children for the past six years have been brought up in this situation and are very empathetic and very sympathetic towards the children. I think fostering impacts positively on the family."
Daniel has recently achieved excellent results at A Level and will be attending his first-choice university to study biochemistry.
He shared his thoughts on growing up as part of a fostering family.
"I was 12 when my family started fostering, and I am 18 now," said Daniel. "It's been a rollercoaster six years. Being a birth child in a fostering family there are ups and downs, but at the end of the day it is a great opportunity for me.
"I've been able to live my life for the past six years while watching the foster children grow up in our household and get the love and care that they deserve, and need, that they wouldn't have had otherwise.
"They're welcomed into our family. When they've been with us for three months, six months, a year, they feel like they're part of our family.
"Obviously it is sad when you do have to see them leave because that's part of the process.
"But to be able to give them that familial love is everything."
As well as being a family effort, Mark also enjoys getting to know other foster carers across Nottinghamshire and belongs to a hub that meets every few months.
He said: "If there's any questions we may have or if we're not sure about something, we can talk to other people in the hub.
"We recently had a meet-up with all the other foster carers in the hub for a massive picnic in a park where we met face to face. All the children were either running around playing or having ice creams. It was a wonderful day.
"If somebody came to me and asked me if they should become a foster carer, obviously I would say 'yes'! I would tell them it does impact your life.
"Of course, it does. But it's such a positive, positive experience and we've had such wonderful children staying with us.
"We're very lucky that we keep in contact with lots of the foster children that we've looked after over the years. Our children miss them, obviously, when they go, but when they go to new families, we get to contact them again and meet up with them and see how they are progressing and growing within their new family.
"It's a privilege to be part of these children's lives, have them coming to our house and to see how developed they are and loved they are when they go to their new family."
Mark shared his experiences as part of Nottinghamshire County Council's latest campaign to encourage local people to considering fostering.
Fostering is providing a welcoming and caring environment where children and young people will be safe from harm. It's about giving them the opportunity to grow and develop to reach their full potential by meeting their emotional, health and educational needs.
Many people can foster, as long as they are over the age of 21 and meet some basic criteria.
Councillor Tracey Taylor, Cabinet Member for Children and Families, said:
"If you have ever considered fostering, now is the time to get in touch. If you're able to support a local young person or sibling group, you could make a real difference at a crucial time.
"Our friendly fostering team will support you every step of the way. From the recruitment team, who can answer all your initial questions and get you started on your journey, to the social workers who will continue to be there for you throughout your placements, you'll never be alone when you're fostering with us.
"There are over 950 children currently looked after in Nottinghamshire. A safe, loving home is the best place for a local child to thrive and we're urging anyone with an interest in fostering to come forward. We want to make sure that as many children as possible have a stable environment where they will be cared for.
"If you think that you could provide a safe, loving home for a Nottinghamshire child, come along to an information event – either online or in person – or get in touch with our friendly fostering recruitment team who will be happy to answer any questions you may have. No question is too big or too small."
To find out more, residents can sign up for online information events or attend in-person drop-in events.
The next online events will be held on Tuesday 26 September, from 5.30-6pm and Monday 16 October, from 11am-noon, with more planned throughout the year.
There will also be in-person drop-in sessions at Mansfield Library on Tuesday 19 September, from 10am-noon, and King's Mill Hospital on Monday 23 October, from 9-11am, where members of the recruitment team will be available for an informal chat.
For information about the events and how to join, visit www.nottinghamshire.gov.uk/FosteringEvents.
Alternatively, contact the fostering recruitment team directly via fostering@nottinghamshire.gov.uk, 0115 804 4440 or www.nottinghamshire.gov.uk/foster