Nottinghamshire community group presented with Tour of Britain land art trophy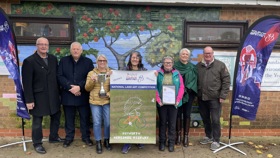 Nottinghamshire community group Wild Things Keyworth, an ecological education collective and local community non-profit group Keyworth Abundance, together with local artist Liz Waddell, have been presented with their Tour of Britain Land Art trophy.
In October, the group won the Tour of Britain Land Art Competition for 2022 thanks to its 'Spike on a Bike', made from recycled objects including wood, plant pots and bin lids, who was spotted riding his bike across the recreation grounds in Keyworth, near the start of the stage five route during this year's race.
The trophy was presented by Tour of Britain PR & Marketing Director Peter Hodges, alongside Nottinghamshire County Council's Cabinet Member for Communities and divisional ward member for Keyworth, Councillor John Cottee, and Councillor Abbey Brennan, Rushcliffe Borough Council's Cabinet Portfolio Holder for Communities and Climate Change Cllr Abby Brennan, outside the headquarters of Keyworth Abundance.
Jennifer Manning-Ohren from Wild Things Keyworth said: "We're so pleased that the Tour of Britain organisers loved Spike as much as we do. We are going to take the trophy on tour to local schools, thank the children involved and chat about Spike's legacy for real world hedgehogs."
Inspiration for Spike was Wild Things Keyworth's ongoing project to protect hedgehogs, which seeks to turn the fortunes around of the wild British hedgehog. With fewer than one million left in the country, Spike is seen waving as if to remind us all, that now is the time to do more.
WTK volunteers have successfully drilled over 165 gaps in local fences, walls and gates in the last 15 months to help the UK's red listed hedgehogs pass from garden to garden.
The collective will continue to retrofit structures to extend the 'Keyworth Hedgehog Highway' and are looking to help other areas set up a similar 'drilling team.'
Jennifer said: "Spike's visibility around the world on the live footage was simply amazing. Long term we are looking for the government to raise protections for hedgehogs to that of bats and red squirrels, this would be a game changer for hedgehogs."
Tracey Lloyd, Keyworth Abundance representative, said: "I thought the idea of Spike on a Bike would be a great way to celebrate the wonderful Tour of Britain and get more recognition for the amazing work being done locally. By creating hedgehog highways we're helping these wonderful creatures have more safe routes in our village. I'm thrilled that the judges liked our design and I hope it helps other places to follow Keyworth's lead."
Artist Liz Waddell said: "It was such a thrill when our drone went up and we saw what we had created just from a hasty sketch on an A4 piece of paper, found materials and with no experience of this kind of thing before. We were very pleased with ourselves and felt it really got our message across."
Councillor John Cottee, Nottinghamshire County Council's Cabinet Member for Communities and divisional ward member for Keyworth, said: "This is absolutely brilliant news and a fantastic reward for everyone in Keyworth who was involved with producing this truly eye-catching piece of land art to highlight a worthy cause.
"Our county is no stranger to rising to the challenge in this competition and I am delighted the community of Keyworth has been recognised for showcasing its creative talents. I would like to congratulate the village on its richly deserved success.
"The award is the icing on the cake for us after what was yet again a hugely successfully stage for Nottinghamshire."
Rushcliffe Borough Council's Cabinet Portfolio Holder for Communities and Climate Change Cllr Abby Brennan, said: "Congratulations to everyone at Wild Things Keyworth and Keyworth Abundance for winning the national competition!
"A lot of hard work went into forming Spike on a Bike, which celebrated The Tour of Britain coming to Keyworth and raised awareness of protecting hedgehogs and our local wildlife, an important message we all support.
"The group led by example by creating an environmentally friendly artwork using recycled objects. We're pleased their inspiring land art caught the eye of the judges and this is a well-deserved win which will build on the group's profile in Rushcliffe and nationally."
Commenting on the presentation, Peter Hodges, PR & Marketing Director for the Tour of Britain, said; "It has been fantastic to meet Jenni, Tracey, and Liz today, and to present them with the national land art trophy. The Spike on a Bike design was universally popular, not just for the humour and quality of the installation but also because of the important issues it is highlighting."
As well as being a part of the winning land art entry, Jenni Manning-Ohren, from Wild Things Keyworth, was also recently shortlisted for the prestigious Pride of Rushcliffe award at the Celebrating Rushcliffe Awards with Great Northern Group, as a part of her work in the local community.
Previous winners of the competition are South Molton Farmers, South Molton, Devon (2018), Egerton Park and Walmsley Primary School, Greater Manchester (2019), and Craskins Farm, Queen's View, Aberdeenshire (2021).
Next year's race, the 19th edition of the modern Tour, takes place from Sunday 3 to Sunday 10 September, with the race finishing in Wales.
Entries into the competition will open in the summer.