New Nottsbus On Demand zone to launch in west Rushcliffe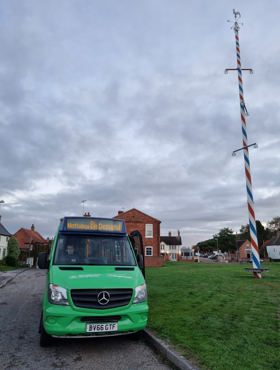 Residents in west Rushcliffe will be able to get on board a new on demand bus service from 15 May 2023.
The new Nottsbus On Demand service is the next phase of our demand responsive transport roll out following the successful trial in north and south Ollerton and Mansfield and will be operating in villages including East Leake, Gotham, Thrumpton, Stanford on Soar, Sutton Bonington, and Kegworth between 7am and midnight, seven days a week.
This new service, which will replace the 865 service, will connect communities to Clifton NET Park and Ride, East Midlands Parkway railway station and East Midlands Airport. Also included in the zone are the University of Nottingham's Sutton Bonington Campus, the Defence Medical Rehabilitation Centre as well as the Pegasus Business Park, Segro Logistics Park and the DHL depot.
Communities including Barton in Fabis, Ratcliffe on Soar, Kingston on Soar, Stanford on Soar, Normanton and Zouch will now be able to connect to places that they previously could not via bus.
Nottsbus On Demand doesn't have a fixed route or follow a timetable, meaning that passengers can travel anywhere between bus stops and designated points in the operating zone, where there is not already a scheduled bus service running.
An easy-to-use, free app puts booking a journey at passenger's fingertips, but there is also a dedicated phone line.
Gary Wood, Head of Highways and Transport at Nottinghamshire County Council, said: "We're pleased to be launching Nottsbus On Demand in west Rushcliffe.
"The trials in north and south Ollerton and Mansfield have been a real success and we have found that passengers like the flexibility of being able to travel anywhere within the zone whenever it suits them within the zone operating hours.
"The key concept behind our new 'Nottsbus On Demand' service is that we send our buses to stops where we know passengers are waiting for them, rather than the bus travelling a fixed route past stops where there's nobody to collect. It's still a bus service - not a door-to-door taxi service - but it is far more efficient, environmentally friendly and responsive to public need. 
"We hope that this new service will offer residents a reliable, affordable and greener way to travel. By giving passengers the choice as to when they want to travel, we are also able to offer them greater flexibility with their travel plans.
"This service will also link passengers to other bus services including Nottingham City Transport service 1, the tram and the skylink network.
"Residents who perhaps aren't sure whether their community is included within the new zone can visit our Nottsbus On Demand website pages where they will find a map of the new zone. https://www.nottinghamshire.gov.uk/transport/travel-notts/travelling-by-bus/nottsbusondemand
Nottsbus On Demand will also connect residents living in Sutton Bonington and Kegworth to existing bus services to Nottingham and Loughborough.
In addition, as trentbarton will no longer be operating the Kegworth, Sutton Bonington and Loughborough leg of skylink Nottingham, the county council is looking to introduce a number of fixed peak time journeys between Sutton Bonington and Loughborough. For further information, please visit our Nottsbus On Demand web pages: https://www.nottinghamshire.gov.uk/transport/travel-notts/travelling-by-bus/nottsbusondemand