More early intervention support for homeless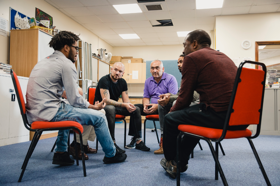 More early-intervention support will be provided to homeless people to access mental health services, substance misuse support and healthy lifestyle guidance as part of a new homelessness contract commissioned by the County Council.
The Cabinet Member for Adult Social Care and Health, Councillor Matt Barney, has agreed to go out to tender for the 'support for single homeless adults in temporary accommodation' contract, which is worth £1 million a year. The service will also offer extra help for people who have left the service and moved on to their own tenancy. The aim will be to identify further support that helps them maintain a long-term independent tenancy, reducing the chances of becoming homeless again.
Once a provider is appointed, the new contract will start in April 2023 and will provide 238 accommodation units. These will offer a mixture of short-term hostel places (for up to 18 weeks) and 'move-on' support (12 months' support until longer term accommodation is found).
Councillor Matt Barney, Cabinet Member for Adult Social Care and Public Health, said: "I have been involved with homeless charities and services over the years and recently visited a Nottinghamshire provider to meet people who are experiencing homelessness. I was strongly reminded once again that homelessness can affect any one of us at any point in our lives. When circumstances suddenly change, homelessness can quickly become a reality, even for those who seemingly have good jobs and happy families.
"The average age of death for someone who is street homeless is just 43 years, compared to a life expectancy of 78 years for the general population. We are determined to do more to improve this in Nottinghamshire, and we have made homelessness one of the priorities of our Health and Wellbeing Strategy.
"Our Public Health team have worked with people who currently use the temporary accommodation service to find out what support they need and used this feedback to develop the new contract. By offering mental health and substance misuse support at an earlier point, and by providing an ongoing service when a person has moved onto their own tenancy, we hope that even more people will achieve a positive outcome."
A recent review showed that 82% of hostel residents and 77% of 'move-on' residents had a mental health support need. 55% of hostel residents and 44% of 'move-on' residents needed substance misuse support.
The aim of the service is to reduce people becoming homeless again by working with them to identify their goals and help them access the appropriate health and care services. A personalised plan will be developed with people to address their physical and mental health, as well as practical day to day needs such as reducing debt, access to housing and opportunities to develop a variety of skills meaningful to a person and their wellbeing longer-term.
The contract will be for two years with options to extend for a further two years, making the total value £4m over the four-year period.
ENDS