Members of the Youth Parliament from Nottinghamshire attend sitting in House of Commons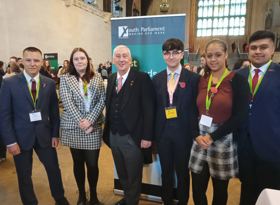 Members of Youth Parliament (MYPs) representing Nottinghamshire, who are supported by the Council's Youth Service, sat in the House of Commons to discuss issues facing young people, specifically the cost of living and health, as well as mental health challenges.
Youth Parliament members Oliver Key, MYP for Rushcliffe, Muhammed Malik, MYP for Gedling, Darcy Griffiths, MYP for Bassetlaw and Gemini Tait, MYP for Pioneers, were among more than 100 young people from across the country who participated in the sitting, which provided a platform for them to voice their concerns and offer solutions to important issues.
This annual debate held in the House of Commons chamber was chaired by Speaker of the House, Rt Hon Sir Lindsey Hoyle MP.
The MYPs debated five issues chosen by a ballot of young people from across the UK, and a vote was held to decide which two issues should become the UK Youth Parliament's priority campaigns for 2023. UK Youth Parliament has chosen to focus on the cost of living and health.
During the sitting, the Nottinghamshire members emphasised the need for increased mental health support for young people and highlighted the growing costs of living, including food, transportation and other day-to-day essentials. They proposed several solutions to address these issues, including improved mental health and more affordable public transport for young people.
Speaking about her experience of sitting in the Chamber, Darcy Griffiths said: "Speaking in the House of Commons, though daunting, was an incredible experience. I am so appreciative of the opportunity to attend.
"Public speaking has always been an issue of mine, but now that I have joined a televised debate in the Houses of Commons, I feel much more confident about speaking up in the future.
"I was amazed by the extensive knowledge and passion that all members of the Youth Parliament have. I know that we can trust these people to be the leaders of the future."
This participation in the sitting is a positive step for Nottinghamshire, as it gives young people in the county a chance to have their voices heard and contribute to important discussions on problems faced by young people. It also shows the commitment of Nottinghamshire to supporting the future leaders of the county.
Gemini Tait, MYP for Pioneers, said: "This was a fantastic opportunity and was very interesting to see other young people's views on topics that not only effect adults but young people as well."
The members of the British Youth Parliament will continue to work on these and other issues affecting young people and will continue to engage with local and national decision makers to advocate for positive change.
Nottinghamshire County Council Leader, Councillor Ben Bradley MP, said: "I am proud of the Nottinghamshire members of the Youth Parliament and their commitment to raising important issues affecting young people. Their presence at the House of Commons is a great example of how young people can make a real difference in their communities."