Making sure all road users stay safe – Nottinghamshire Marks Road Safety Week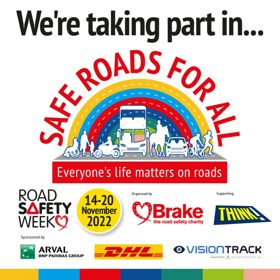 Road Safety Week starts today (14 November) - this huge annual road safety campaign engages, thousands of schools, organisations and communities to share important road safety messages, and remember people affected by road death and injury.
This year's theme is safe roads for all, and Nottinghamshire County Council along with partners at Via East Midlands will be marking the week by shining a light on the breadth of education, training, analysis and engineering that help keep highway users safe across Nottinghamshire
From school crossing patrols to Bikeability and Casualty Reduction Schemes to Occupational Road Risk training for businesses, the work of Via's Safer Highways Team together with Nottinghamshire County Council has reached tens of thousands of young people and road users across the county. Highlights in the last year have included:
8,297 children receiving some form of Bikeability/cycling training in schools
2 million children helped to cross the road safely at school crossing patrols
The Road Safety Team delivering sessions in to 24,833 children, visiting 125 schools
Child Car Seat Safety sessions, as well as pre-driver training, and occupational road risk training for workers on sites
An overall accident reduction rate of 83% across casualty reduction schemes
Education and engagement in the county has also taken place around the 'Fatal Four' – Speeding, drink and drug driving, driving whilst distracted and the non-wearing of seatbelts.
Councillor Neil Clarke MBE, cabinet member for transport and environment said "We are very proud of the work all our road safety teams have achieved in the past year, taking messages out to the community, providing targeted education to people of all ages to change behaviours and making highways improvements. All of these make a contribution to our aim to reduce the number people killed or seriously injured on our roads by 40% by 2030; but we know there is still work to do and it is vitally important that all road users understand their responsibilities to help keep others safe, and how to remain within the law. That's why we are keen to support Road Safety Week."

Watch Councillor Clarke's introduction video here: Road Safety Week 2022 - YouTube
There are also opportunities available for those who want to get involved with road safety, with vacancies for both Bikeability trainers and also School Crossing Patrols in different areas across the county. More details are available on the Via website: Road Safety – Via East Midlands (viaem.co.uk)