Look out for each other as students head back to school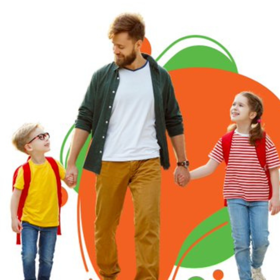 As young people across Nottinghamshire head back to school this week, Via East Midlands' Road Safety Team, together with Nottinghamshire County Council, is urging road users, parents and young people, to look out for each other and stay safe on the county's roads and pavements.
Road safety is a shared responsibility and it is up to us all to keep highway users safe, particularly vulnerable groups, such as children, by following the rules of the road.
The back-to-school season can present challenges on the county's roads and pavements, especially around schools where there are a greater number of pedestrians, cyclists, and drivers.
This can include young people making school journeys independently for the first time, or others making their first trip to a new school. Road users are asked to take extra care, especially towards those with less experience of using the roads.
While traffic can slow down considerably during the back-to-school period, drivers should remember to drive slowly in the immediate vicinity of schools and give themselves extra time to deal with the traffic.
Nottinghamshire's School Crossing Patrols will also be returning to help children get to and from school safely, with road users being asked to be considerate and remember to 'stop for the lollipop' to help children on their journey to and from school. Parents who drive their children to school can also play their part to help make crossings safer by parking considerately and not causing obstructions close to schools.
Councillor Neil Clarke MBE, Nottinghamshire County Council's Cabinet Member for Transport and Environment said: "With students returning to the classroom this week, there will soon be an increase in children walking, cycling and taking the bus to schools throughout Nottinghamshire.
"The back-to-school period is a fitting moment to remind road users to be extra vigilant and help keep young people safe while they are out in the community. We also encourage parents and guardians to discuss personal safety and awareness tips with their children, while also planning their journeys beforehand or choosing to walk or cycle to school, which can help to ease congestion on the roads."
The council has designed a School Travel Toolkit, which contains information and advice for school leaders, teachers, parents and carers, children and residents who live near schools.
The toolkit includes information on implementing a school travel plan to promote safer, more active and sustainable travel to school by reducing the number of children and teachers commuting by car. The move will help to reduce congestion and improve air quality, while encouraging students to be more active by walking or cycling to school.