LED streetlight conversion project completed with over £20m already saved on energy costs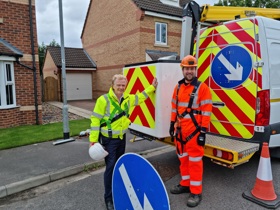 Nottinghamshire County Council's award-winning LED Street Lighting Conversion Project, which has delivered significant carbon and financial savings to the county, has been successfully completed in Ranskill, Bassetlaw.

Watch a video on the project at: https://youtu.be/MejBz8DCbL4

Councillor Neil Clarke MBE, Nottinghamshire County Council's Cabinet Member for Transport and Environment, joined the team from Via East Midlands to mark the successful completion of the project, which has generated over £20m in savings on energy costs since its inception in 2014.
The ambitious conversion programme has been delivered by Via East Midlands on behalf of the council. The nine-year project involved replacing almost 95,000 conventional sodium streetlights with environmentally friendly LED lighting across the county's seven district and borough council areas.
Over 98% of Nottinghamshire's streetlights are now LED, with mainly specialist and decorative lighting remaining as sodium lanterns.
The new LED lights provide improved illumination and better energy efficiency, enhanced night-time visibility and facilitate a safe and secure environment across Nottinghamshire.
The project's final phase was rolled out in Bassetlaw, where around 2,000 sodium lights were replaced.
Councillor Neil Clarke MBE hailed the success of the programme: "It has been very exciting to see the incredible progress made on the LED streetlight conversion programme over time.
"Together with our highways partner, Via East Midlands, we've come up with innovative ideas and solutions to tackle the challenges we face, which has resulted in a well-managed and successful streetlight conversion programme. This project fulfils a core part of our pledge to become carbon neutral as an authority by 2030."
Since the project was first launched in 2014, the county has reduced its annual energy consumption by over 135 million kwh and cut its carbon emissions by over 107,000 tonnes. This has generated over £20 million in savings.
In addition, streetlighting fault reports have reduced, improving service and value for money for Nottinghamshire residents. 
Councillor Clarke added, "I would like to congratulate Via and thank everyone who worked on this project to ensure its resounding success. I look forward to seeing its continued positive impacts in the coming years as we savour the benefits of brighter, more affordable, and more environmentally friendly streetlights."
The project won the 2020 Association of Public Sector Excellence (APSE) Streetlighting Innovation Award.
The team secured a total of £16.6m in funding for the project, with £14.5m from Salix Finance Limited, the non-departmental public body which provides government funding to the public sector, along with £2.1m from Nottinghamshire County Council.
With a 25-year life expectancy, the LED streetlighting conversion project implemented by Via will require less maintenance and consume less electricity. The upgrade brings notable benefits to Nottinghamshire's local communities and calculations show that the conversion programme will save £2.2 million per year across the county (based on current energy prices).