Interventions to tackle youth violence will lead to a brighter future for young people across Notts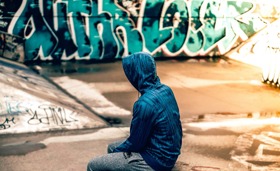 Young people in Nottinghamshire will benefit from a new needs-led approach to reducing youth violence and the number of young people entering the criminal justice system.
The new holistic approach will look to intervene at an earlier stage and identify young people who have been arrested and can be supported with interventions and mentoring.
Last year saw a reduction of 14 per cent in young people aged 10-17 entering the justice system in Nottinghamshire, with arrests for this age group falling well below the national average. The interventions and mentoring will aim to continue this downward trend across the county and keep even more children and young people from the justice system and encourage better outcomes for each of them.
Many young people who enter the criminal justice system at an early age are from vulnerable backgrounds and interventions at this stage can help assess the different kinds of support they need when they really need it. Mentors will help children and teenagers to find activities they enjoy, learn new skills and form friendships that should set them on a more positive path.
Interventions will be aimed at children aged between 10 and 14 who have allegedly been involved in violence or associated offences, but they would also work with those up to 18 years in some cases, particularly for those who have not previously been in the criminal justice system.
A new youth worker will act as a mentor to these children and young people after release from police custody, where an arrest can be used as an opportunity to identify the needs of the young person and work with them to prevent future reoffending.
The youth worker will mentor young people on a one-to-one basis for nine months to a year, focusing on positive activities during their leisure time. Additionally, a speech and language therapist will be available to provide speech and language support, which is an issue for more than 80% of children entering the youth justice system.
Councillor Tracey Taylor, Nottinghamshire County Council's Chairman of the Children and Young People's Committee, said:
"This will be a really positive piece of work which will not only help young people to stay out of criminal activity and find alternate interests and activities which they enjoy, but it will also have a positive impact on their communication skills which will help them immeasurably in the future too.
"Early intervention from youth workers who will mentor these young people can really help them onto the right path and encourage them to explore different interests, make new friends and really build their skills and confidence."
The young people will also be encouraged longer-term to interact with the council's other youth services and young people's centres to promote on-going positive contact with other young people and youth workers.
This new approach and the addition of the new youth worker role was agreed at Nottinghamshire County Council's Children and Young People's Committee on Monday 17 January and will operate under the name of DivertPlus.
The scheme has received funding until March 2024 and the DivertPlus team will complement the work of the NHS Liaison and Diversion Team which provides mental health support, and the work of Inspire and Achieve U-Turn which supports young people, including young adults, into employment and training.