Help Grow Your School's Future with a Free Veolia Fruit Tree Orchard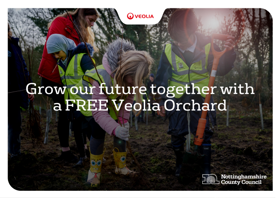 This June Veolia is launching a brand new national campaign to supply schools with free fruit trees. The scheme in Nottinghamshire is being run in partnership with Nottinghamshire County Council. Each successful school will join Veolia's network of national orchards which are being supported by the community action charity, Groundwork.
This campaign aims to improve the wellbeing of young people and nurture their skills to create a positive change to their environment. The maturing fruit orchards will become a source of healthy food for schools, whilst also helping to improve their local air quality and create new habitats for wildlife.
Schools can apply online at www.veolia.co.uk/veolia-orchard for their free fruit trees until Friday 8 July. Successful applicants will be informed from Monday 18 July with tree deliveries taking place during September and October. The trees will be accompanied by an information pack on how to plant the trees and harvest the fruit, making this a unique learning opportunity for pupils.
Councillor Neil Clarke MBE, Cabinet Member for Transport and Environment at Nottinghamshire County Council said: "We're delighted to launch this campaign in Nottinghamshire and are sure that our schools will appreciate having the chance to improve their outdoor spaces by planting fruit trees. Not only is this a great  learning opportunity for local school children but it is also another step forward in our battle against climate change and helps increase their understanding of where their food comes from."  
Lea Hawkes, General Manager for Veolia Nottinghamshire said: "We understand that not all communities have equal access to good quality green space, which is why we're excited to partner with Groundwork for this new campaign. These orchards will give pupils a rare opportunity to learn how to grow and look after trees with the added benefit of providing an ongoing supply of fruit. We look forward to seeing the campaign take root in schools and reconnect them with the natural environment."
Joe McIndoe, UK Partnerships Manager, Groundwork said: "Groundwork is pleased to support this competition to win an Orchard. Orchards have been in decline for decades so many young people are growing up without the pleasure of picking and eating fruit straight from the tree. We hope that schools put themselves forward to win an orchard, to plant and nurture their trees with their pupils, and get the chance to enjoy the fruit for many years to come."
This campaign is being powered by Veolia's Sustainable Schools programme. For more information on how Veolia supports schools and to discover other partnership opportunities please visit www.veolia.co.uk/schools.
Ends