Have your say on Mansfield cycling proposals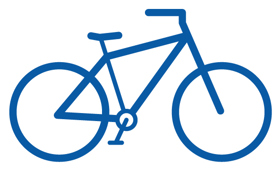 The county council is seeking views of Mansfield residents on proposals for a new cycle route on the A611 Derby Road.
The scheme proposes to create a new one-way protected cycle track on both the north and south side of Derby Road, between Cauldwell Road and A60 Nottingham Road.
Pedestrians and cyclists would also benefit from improvements at the junction of the A60 Nottingham Road with Derby Road and also at the junction with Caudwell Road.
The county council's proposals, developed by Via East Midlands, also include constructing a combination of on-road and off-road protected cycle tracks, the relocation and upgrade of existing cycle paths and a new toucan crossing on Derby Road to the west of the entrance to the Vision West Nottinghamshire College Campus.
The scheme is one of three to be funded from the £4.6million awarded to the council by the Department for Transport (DfT) as part of the Active Travel Fund Tranche 3 proposals.
Local residents can have their say on the proposals by filling out the online consultation before 23 November: https://www.nottinghamshire.gov.uk/atftranche3
Councillor Neil Clarke MBE, Cabinet Member for Transport and Environment at Nottinghamshire County Council, said: "The Active Travel fund was announced in May 2020 to encourage more walking and cycling and embed those commuting habits to help secure the associated health air quality and congestion benefits.
"This proposed scheme would have significant benefits for cyclists as it will run adjacent to the Vision West Nottinghamshire College campus and will provide a link to connect to existing walking and cycling infrastructure in the area.
"As with any proposed scheme of this kind, we want to know the views of local people.
"One of the funding conditions of the Active Travel Fund allocation is that any proposed scheme must be broadly supported and so we would really like your views on our plans.
"Having your say is simple and can be done by visiting our website: https://www.nottinghamshire.gov.uk/atftranche3
"The consultation closes on 23 November and after this time we, and our colleagues at Via East Midlands, will be looking closely at the responses before bringing an update on any next steps for the scheme."