Full-time standby begins for Nottinghamshire's gritting teams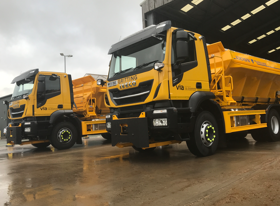 1 November can only mean one thing, and that is that Nottinghamshire's gritting teams are on full-time standby and ready for the winter ahead.
Every year the 30-strong fleet of gritters and their drivers go onto full-time, 24-hour standby marking the official start of winter for Nottinghamshire County Council and its highways partner Via East Midlands.
Last winter, gritting teams completed 76 gritting runs and spent a total of more than 248 consecutive hours of the road, which is equivalent to spending 10 consecutive days and nights gritting!
Councillor Neil Clarke MBE, Cabinet Member for Transport and Environment, said: "Once again, our teams have made sure that we are well stocked and ready for winter and whatever the conditions may throw at us.
"As our gritting teams begin their full-time standby duties, I'd like to take a moment to tell you a bit more about what our gritting teams do and how they keep you safe.
"Our gritting teams go out whenever the forecast suggests that road temperatures are going to be at or below zero degrees and it won't surprise you to hear that the majority of their work takes place while the rest of us are at home in the warm.
"Our main routes make up just over a third of Nottinghamshire's road network – 1,121 miles to be exact and are made up of all A and B roads and major bus routes, but you might not know that in times of severe weather, we also grit additional roads.
"These are often referred to as snow or severe weather routes and include one road to every major settlement and some steep residential roads as well as access routes to special schools.
"This gives you an idea of the scale of the task that our gritting teams face every time they go out on a gritting run, and I know that many of you often wonder whether your local road is on one of our gritting routes.
"You can find this out by viewing our gritting routes on our website. That way, you'll be able to look out for our friendly bunch of gritters and give them a wave if you see them pass by. You can view these routes by visiting: https://www.nottinghamshire.gov.uk/transport/gritting/map
"There is a common misconception that just because someone hasn't seen a gritter pass through their area, it must mean that they haven't been out, but certainly isn't the case.  
"It might surprise you to know that the average gritting run takes between three and four hours and so if you see on our social media channels that our gritters are due to go out from say 6pm or 7pm, this could mean that they may not pass through your area until long after you're tucked up in bed!
"While our gritting teams are a significant part of how we keep you safe in the colder months, I cannot mention our winter teams without recognising that it is not just our gritting teams who will be busy during the colder months.
"For our drainage teams, heavy rain, storms and flooding can lead to a spike in demand for their services, and when high winds lead to fallen trees, it is the forestry team who will be called out.  
"As for our emergency response team, their 24/7, 365 days-a-year role can be easily impacted by adverse weather and could see them dealing with anything from managing road closures, to delivering sandbags and putting out flood boards. 
"We really do have so many fantastic people protecting Nottinghamshire this winter, and I'd like to thank them in advance for all the work they'll be doing to keep things moving and to keep everyone safe."
More information about gritting can be found on our website: https://www.nottinghamshire.gov.uk/planning-and-environment/emergencies-and-disruption/winter-weather