Free tram travel for concessionary pass holders in Nottinghamshire to be reviewed
Wednesday, 8 November 2023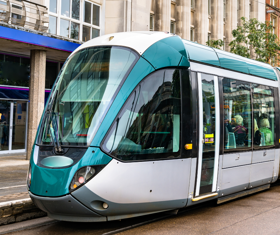 Nottinghamshire County Council will be consulting residents on a range of options around tram travel for concessionary pass holders, due to its current level of cost.
Currently, people with disabilities and older people with a concessionary pass living in the county can travel free of charge on the tram between 9.30am and 11pm on weekdays and all day on weekends and bank holidays.
The 154,000 pass holders in Nottinghamshire are estimated to make around 1.14million journeys on the tram each year, which are funded by the county council at a cost of £900,000. The 10 million bus journeys made by pass holders each year form part of the National Concessionary Bus Scheme which is funded by the Government.
The county council will now undertake a consultation with local residents and pass holders to consider options from 2024. These include revised tram travel arrangements such as introducing a half fare payment, withdrawing the scheme for everyone except disabled passholders and their companions and withdrawing free travel on the tram for all passholders. There is also the option to continue with tram concession arrangements as they are.
Councillor Neil Clarke MBE, Cabinet Member for Transport and Environment at Nottinghamshire County Council said: "As a Travel Concession Authority (TCA), we have a duty to provide free travel on local bus services for holders of a valid English National Concessionary Travel Pass.
"Access to transport is just one of the ways we hope to achieve a healthy, prosperous and greener future for Nottinghamshire residents, and so alongside our statutory duty, we also currently support passholders by offering extra entitlements.
"These entitlements mean that passholders have access to free travel on the tram, a companion travel facility attached to passes issued for certain severe disabilities and free travel for disabled pass holders on Section 19 minibus services in the county.
"The costs of these additional measures are funded entirely by the county council, and due to the current cost of the tram concessionary offer, we want to seek the views of residents and pass holders to make sure that our future offer best suits their needs.
"The consultation will last for eight weeks, and once we have completed this, we will consider the views of those who respond at a future Cabinet Member Meeting."