Former Mansfield Town directors shine a light on life as foster carers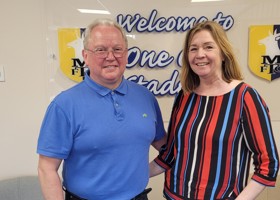 A caring Nottinghamshire couple who spent almost a decade as directors at Mansfield Town Football Club have a shone a light on life as foster carers.
Tina and Paul Broughton became support foster carers with Nottinghamshire County Council last summer, just a few months after stepping down from their roles at the Stags.
Now the duo, who acted as operations director and stadium director respectively during their time at the One Call Stadium, have spoken about their life-changing experiences as part of Foster Care Fortnight – a national campaign which runs until 28 May and raises awareness of foster care and the need for new carers.
This year's campaign focuses on #FosteringCommunities and aims to highlight the many ways people across the fostering community support each other, as well as celebrating the various communities involved in fostering.
Tina and Paul, of West Bridgford, have helped to provide a loving and settled environment for children aged four, five and 10 as part of three different fostering arrangements since becoming support carers in July.
Paul describes their time as foster carers as 'absolutely amazing', while Tina says the fulfilling role is 'fantastic and rewarding' and the 'best thing we've ever done'.
Tina said: "Being a support carer for us has meant that we can still have what we want as a social life, but it also means that when full-time carers need help and support – or want a holiday – we can have the little ones come to us.
"It's almost like coming to nanny and grandad's because that's the age we are. We love it and the children love it.
"When the children say 'I don't want to go home' it means that we've done our job. The two things we say – and it's the most important job we've got for them – is to love them and to make sure they're the safe."
There are more than 240 children living with foster families in Nottinghamshire and the number needing foster care keeps rising.
Several foster families look after children on a short-term basis but, for many, fostering offers them a secure, permanent home.
They provide support and care in a family setting and enable children to stay in their local community to minimise further disruption to their lives by helping them stay in their school, close to their friends, and maintaining connections with other family members.
Nottinghamshire's foster carers benefit from support hubs and the Fostering Liaison Advisory Group (FLAG), a committee run by carers which provides an opportunity to meet regularly and hear updates from the fostering service, professionals, and other organisations about the children they look after.
Tina said the training as well as the help and support she and her husband have received from other foster carers has put them at ease since taking up their new roles.
She said: "We've relied on our supervising social worker for help and guidance since we took up fostering with Nottinghamshire County Council. She has been brilliant to us and is always on the end of a phone, so we can ask her anything we want. She's there for us.
"There are carers we can talk to as well for advice. We go and have a cuppa with one of our carers who we provide support care to and it's nice because they can talk about their experiences, and we can talk about ours. It's nice and we've got a good network."
Tina and Paul say living close to the River Trent also helps to keep the children they care for entertained – while keeping costs to a minimum.
She said: "We live near the river, so we go walking along the Embankment to feed the birds and then to the park to go on the swings. They love it.
"It's not all about being rewarding to us but to see them happy and feel secure in your home is just fantastic."
Councillor Tracey Taylor, the county council's Cabinet Member for Children and Families, paid tribute to Tina and Paul and said their story would hopefully attract more people to the council's fostering service.
She said: "Tina and Paul's story is truly inspiring and a great example of how our foster carers come from all walks of life to provide a hugely vital service in Nottinghamshire.
"Foster carers do an incredible job to support and provide loving care for some of the most vulnerable children and young people in our county, helping to shape a child or young person's life by providing a safe and secure home – which is always the best place for a youngster to thrive.
"We need more carers to ensure that every child in need can have a safe, loving, and stable home environment and I hope people will read about Tina and Paul's experience and consider joining them in our wonderful fostering community.
"If you think you have the space in your home and your heart, and the skills needed to help children thrive, please get in touch with our friendly fostering team."
Anyone interested in fostering can get in touch with the Fostering Recruitment Team at Fostering in Nottinghamshire | Nottinghamshire County Council, by calling 0115 804 4440 or emailing fostering@nottscc.gov.uk