Final Call for Applications for Reduce, Reuse, Recycling Grants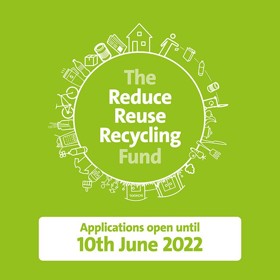 The application deadline for the Reduce, Reuse, Recycling Fund, run by Veolia (Nottinghamshire County Council's waste and recycling partner) is fast approaching. Any not- for-profit groups with an idea to inspire people to think differently about waste and resources are reminded to apply by 10 June 2022.
Now in its 12 year the fund is open to not-for-profit community groups, schools and charities based in the county of Nottinghamshire (excluding the city of Nottingham) and grants of up to £1,000 are available for initiatives that help Nottinghamshire to Reduce, Reuse or Recycle waste.
Funding can be granted for a variety of projects and activities including in-person or online workshops, social media campaigns, practical equipment, education activities or even promotion and awareness raising. This could be anything from swap shop events, repair workshops, community gardens (that make use of reused, reclaimed, or recycled materials), food growing, food waste reduction initiatives and composting schemes. These projects could be at school, place of work, online or at a local event. We're looking for creative and innovative ideas that inspire others to think about waste in a different way.
Councillor Mike Adams, Nottinghamshire County Council's Environment Ambassador and Deputy Cabinet Member for Transport and Environment said: "Nottinghamshire residents are eager to make a difference in their communities whilst also protecting the environment. There is already so much taking place at a community level and the Reduce, Reuse and Recycling fund is a fantastic way to boost this action. If you're a school, community group or charity with an idea to challenge how we think about waste then I encourage you to submit an application"
Lea Hawkes, General Manager for Veolia Nottinghamshire said: "It's amazing to see how the Nottinghamshire community have got involved in projects to reduce, reuse and recycle waste over the last 12 years. The Reduce, Reuse, Recycling Fund has brought some exciting ideas to life that may not have been possible otherwise."
Since its inception in 2010, the funding has supported 222 groups with a total of almost £124,000 in funding.
In 2021, 27 different organisations were supported to a total value of over £20,000. Applications were received from a wide range of groups to fund diverse projects, examples include:
Dukeries Community Workshop (Newark and Sherwood) used the funding to purchase lightweight power tools for elderly service users, many of whom have arthritis, to make bird boxes, bat boxes and hedgehog houses from waste timber. Alan Perry, The Dukeries Community Workshop Honorary Secretary said, "We were delighted to find out that our funding bid for lightweight power tools was successful. Having the right tools for the job means greater independence for our service users, many of whom have arthritis and struggle to hold heavier equipment. Our four week course teaching members of the community how to make garden accessories , such as bird boxes, bat boxes and hedgehog houses, from waste timber has proved really successful thanks, in part, to the funding provided. The application process is really straightforward and I would encourage any group with an idea to apply."
Woodborough Woods Foundation Primary School (Gedling) were able to renovate their sensory garden after it fell into disrepair. They bought gardening tools so the children could learn how to grow their own food and composters to recycle garden waste into a great soil improver. They also purchased benches made from recycled materials to create a much-needed outdoor oasis of calm for the children.
Bassetlaw Food Bank (Bassetlaw) established an upcycling project to transform donated textiles into new items of clothing and used the funding to kit out their workshop with the necessary desks, sewing machines and storage units. Ellen Perry, Assistant Manager, who established the project said, "We were so pleased to secure this funding and put our up-cycling idea into practice. Our volunteers can now transform unwanted textiles, that may otherwise have been thrown away, into new items of clothing or into completely new products such as trinket boxes. We sell our items on Ebay and have a stall at Retford market every Friday. All of the income raised goes directly into the Food Bank so we can help more local families."
Could you benefit from a grant?
Applications are considered annually. The next deadline for application is 10 June 2022, the grant information leaflet, application form, terms and conditions and examples of past projects can all be found on the Veolia website: https://www.veolia.co.uk/nottinghamshire/community/reduce-reuse-recycling-fund
Please call 0203 567 4391 or email nottsenquiries@veolia.co.uk for further information.
Ends