DfT funding announcement for Active Travel schemes in Notts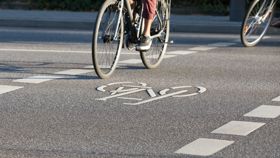 The Department for Transport has announced funding of £4.63m for Nottinghamshire County Council's Active Travel Fund work.
The funding secures the delivery of a further three schemes subject to the necessary design, consultation, and approval processes.
Active travel schemes aim to encourage residents to undertake more local journeys by foot and by bike. The schemes could also have longer-term benefits, including reduced congestion and improved air quality.
The schemes included:
A611 Derby Road (West Notts College), Mansfield
The creation of a new protected cycle track between Cauldwell Road and the existing cycle facility on the A60 Nottingham Road. The scheme will include for improvements to the Derby Road, Cauldwell Road junction.
A612 Colwick Loop Road (Private Road #1 to A6211), Netherfield
A new protected cycle track between Private Road number 1 and the Victoria Retail Park. The scheme is an extension to the proposed upgrade secured through the Transforming Cities Fund.  This would create a high standard route that improves cycle access to a key retail site from nearby residential areas and the city.  
B6021 Kirkby Folly Road, Sutton in Ashfield.
An upgrade to the existing cycle facility on Kirkby Folly Road and Lowmoor Road, new cycle facility on B6022 Newark Road and B6139 Coxmoor Road, Sutton in Ashfield. The proposed cycle scheme links Sutton Parkway railway station to Oakham Business Park in Mansfield via existing cycle facilities.
Councillor Neil Clarke MBE, Chairman of the Transport and Environment Committee at Nottinghamshire County Council, said: "Nationally over the last year, cycling has risen by 46%, the highest increase since the 1960's. 
"There are many reasons more people in Nottinghamshire have looked at their transport options and our successful bid highlights the Council's commitment to make sure that walking and cycling are encouraged within our communities."
The Government has also approved the shortlisting and funding of £79k to explore a potential Mini-Holland scheme in Stapleford.  The Council will now work with the local community to identify the potential infrastructure improvements.  The plans will then go back to the Government for a further competitive process before it is given the green light to progress.
Councillor Neil Clarke MBE added: "Nottinghamshire County Council declared a Climate Emergency in its May 2021 meeting and we have been actively looking at ways to tackle the cause and effect of climate change.
"Transport is a significant factor and I'm encouraged that the Government has recognised our ambitious plans with the funding to explore a potential 'Mini Holland' scheme for Stapleford.
"The principles of the Mini-Holland scheme reflect our ambitious plans which include prioritising walking and cycling to replace short car trips.  Our bid has also been supported by the local MP, Darren Henry."
The Mini-Holland programme would be designed to stimulate a step change in travel behaviour, aiming for a shift from car to cycling and walking, particularly for short journeys (less than three miles); and these would likely comprise measures to:
Remove rat-running traffic from local residential roads to create conditions to encourage people to walk and cycle; and for children to play and people to socialise on their own streets
Help make people feel safer when cycling, including addressing the perception that cycling is unsafe – integrated with the existing plans to provide high-quality segregated cycle routes to improve the road network in Stapleford
Help encourage pedestrian journeys – by improving footways (e.g. greater road space allocation for people walking), crossing points and junctions and by identifying the links between Mini-Holland proposal's and any public realm improvements (e.g. those planned as part of the Town Deal)
Help people make informed travel choices – through targeted behaviour change programmes to support/complement any infrastructure delivered using the Council's successful personal travel planning model developed.
Darren Henry MP said: "Having championed Stapleford's bid from the start, I am thrilled that the town has been successfully shortlisted along with a select few locations across the UK for a Mini-Holland feasibility study.
"This funding will be used to put the local community at the heart of developing proposals to improve cycling and active travel in the town."