Deadline looms for groups wanting to apply for latest round of community grants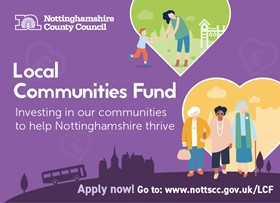 Voluntary and community groups who are helping to improve the health and wellbeing of Nottinghamshire residents can still apply for the latest round of financial support.
A range of grants are available via Nottinghamshire County Council's Local Communities Fund (LCF), which enables eligible groups and good causes to access money to deliver key projects.
The deadline for applications is 24 November but, following the recent floods which have devastated many areas of the county, organisations can now use an LCF grant to support those in their communities impacted by Storm Babet.
In addition to using money to help residents and organisations affected by flooding, the latest round of funding includes cost-of-living grants aimed at groups who are:


Helping those who are struggling to buy nutritious food to help improve health and well-being and build resilience. Groups can apply for up to £5,000;
In need of a contribution towards their own rising energy bills to help keep their welcoming and warm centres and halls open across the county, particularly during the winter months.Once again, groups can apply for up to £5,000.


Groups can also apply for up to £20,000 in capital grants to help towards improvements to facilities that help improve health, wellbeing, and the environment such as improvements to sports facilities, play areas or green spaces.
  
Revenue grants are also available to help projects with their day-to-day running costs such as paying wages and bills.
Groups can apply for up to £5,000, to help access to community-based services for those most in need or for schemes which benefit the environment. 
Councillor John Cottee, the County Council's Cabinet Member for Communities, has encouraged groups and organisations to apply for funding – especially those in flood-hit areas of Nottinghamshire.
He said: "The work of community groups, voluntary organisations and parish councils help to make our communities an even better place to live, so I'm delighted that the latest round is open for several grants – which now includes funding to help those affected by the recent flooding.
"I know many communities are having a tough time at the moment because of the devastating weather we've experienced, so I would urge any group or project to apply ahead of the 24 November deadline."
Councillor Matt Barney, Cabinet Member for Adult Social Care and Public Health, said groups and organisations play a significant role to improve the health and well-being of Nottinghamshire residents who need help the most.
He said: "As we approach the winter months, we are more aware than ever of the tireless work of these groups and, I'm sure, many will also be wanting to provide help and support to those who have been sadly affected the flooding in their communities."
Eligible groups can apply for all four types of grants to help meet their specific needs in line with the criteria.
Each application will need to clearly explain how the money will be used, if successful.

For further details of eligibility criteria as well as how to apply go to: www.nottinghamshire.gov.uk/LCF
For further financial support and advice, check the council's dedicated cost of living support page: www.nottinghamshire.gov.uk/business-community/cost-of-living-support