County council trainees guaranteed job on completion of Graduate Development Programme apprenticeship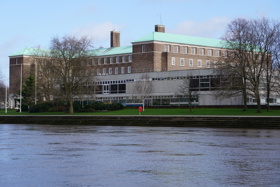 Talented trainees who join Nottinghamshire County Council's successful Graduate Development Programme will be guaranteed a job on successfully completing their apprenticeship.
The county council launched the scheme in 2018 to identify, develop and retain suitable people as part of a wider approach to talent management within the organisation.
It offers a wide range of learning and development opportunities including specialist project management training; experience of adult and children social care; public health experience and access to mentors at senior management level.
Now in recognition of the importance of the talent pipeline the scheme offers and the valuable resources which go into developing the trainees, the county council has decided that anyone employed on the two-year Graduate Development Programme will be guaranteed a job on successful completion of their apprenticeship.
Councillor Gordon Wheeler, Cabinet Member for Personnel, said the programme plays a crucial role in developing the next generation of high-quality local government managers.
He said: "As a council, we are committed to delivering a sustainable programme of skills development which provides the best opportunities for Nottinghamshire residents to access meaningful employment.
"The Graduate Development Programme and a range of apprenticeship opportunities are vital in attracting new talent to the workforce to future proof our ability to innovate and react to the challenges of delivering effective and efficient public services.
"It is an amazing scheme and the trainees on it are our future, it's as simple as that.
"This decision is fantastic news for them and will mean that the appropriate jobs will be identified for these internal candidates in the hope all will remain with us to progress their careers within the council and become the workforce for the future."
The current recruitment for the programme is closed and the selection process is due to start mid-June in preparation for the new cohort starting in September.
Thirty graduates have been involved with the in-house scheme since its launch five years ago and for more information about the programme, visit www.nottinghamshire.gov.uk/graduates.