Council set to lead £8 million 'gigahubs' project to help Midlands communities be better connected.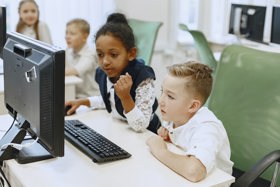 Nottinghamshire County Council has been chosen to lead a Midlands-wide investment to bring faster internet speeds to communities who need it the most. A total of more than 350 public buildings such as libraries, rural schools and doctors' surgeries are set to become 'gigahubs' with 96 due to be in Nottinghamshire. 


£6.8 million has been awarded to the County Council, on behalf of the ten Midlands local authorities which have signed up to the project. This part of the funding is from Building Digital UK (BDUK) the delivery arm of the Department for Science, Innovation and Technology (DSIT) to create up to 235 gigahubs.
An additional £1.2 million via the Department for Levelling Up, Housing and Communities  (DLUHC) comes
thanks to an early investment as part of devolution negotiations
. This will help deliver an additional 118 gigahubs across the D2N2 areas of Nottinghamshire and Derbyshire. 
The overall aim is to connect total of more than 350 public buildings with fast, reliable gigabit broadband. This will mean that whole classrooms in rural areas could be online at once with no interruptions. And while face-to-face health advice is always the preference, having the option for a high-quality video call with a doctor could help to reduce waiting times. 
Digital Infrastructure Minister Julia Lopez said:
"Our latest multi-million pound broadband investment in Nottinghamshire will enable schools, libraries, GP surgeries and other vital public services to deliver more for their communities. It also makes it more attractive for broadband firms to extend their networks to other homes and businesses across the county. This is all part of our £5 billion Project Gigabit to ensure no one misses out on lightning-fast internet speeds."
Nottinghamshire County Council will lead and oversee the project, with a tendering process due to start in April. It is hoped a contractor to deliver the project will be appointed by June 2023.   Exact locations of which buildings and schools will benefit from the project are still be identified. It is hoped the full scheme will be live by Spring 2025. 


Councillor Ben Bradley MP, Leader of Nottinghamshire County Council, welcomed the investment. He said, 
"With the way the world has changed these last few years, having access to reliable and fast broadband has never been more important. This project will help support children's learning in the classroom and help those who can't afford or access high-speed broadband at home. For example, being able to pop into their local library to help with things like online searches for work and training will help boost local skills and the economy.     

"Thanks to devolution negotiations, we've secured extra money to benefit even more local residents, particularly young people. It is a great example of how devolution has already brought even more investment to our area to help future generations thrive. Fantastic news."


The Midlands Engine originally brought the ten councils together to form a gigahubs partnership and will continue to support and help fund the initiative. Sir John Peace, Chairman of the Midlands Engine said:
"Through investing in our region's digital infrastructure, with a specific focus on improving rural connectivity and eliminating 'notspots', this initiative will play a crucial part in levelling up our region and driving inclusive economic growth. It is an exceptional example of how Midlands Engine partners can work in close pan-regional partnership to unlock tangible benefits for the Midlands."
The local authorities which have agreed to be part of this regional project include Derbyshire, Herefordshire, Nottinghamshire, Lincolnshire, Rutland*, Shropshire, Staffordshire, Worcestershire, Telford and Wrekin and Warwickshire.
ENDS 
*While Rutland does not have any sites in the current plans, there will be opportunity to include them as the project progresses.