Council celebrates outstanding young people in Nottinghamshire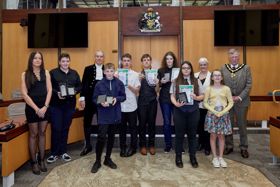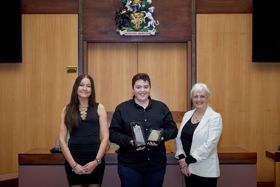 Kieran Frankland, 17, has been named as this year's county-wide winner of the 4Uth awards at a recent event at County Hall.
Kieran, from Gedling, who has autism, was nominated for his time and hard work helping his local community, supporting other young people and improving services. As well as volunteering at the Trussell Trust foodbank, he fundraises for the East Midlands Blood Bikes and is an active senior member of his local Boys' Brigade. Kieran has been a member of Voice of Adoption for many years, setting up activity days for children and young people who are adopted. Alongside this, he is involved in the Nottinghamshire Pioneers Youth Forum for young, adopted people with disabilities and represents voices of adoption on the Nottinghamshire young people's board.
The 4Uth awards are a Nottinghamshire County Council initiative to celebrate the achievements of young people across the county.
Councillor Tracey Taylor, Nottinghamshire County Council's Cabinet Member for Children and Families, said: "Kieran is such a worthy winner and it was a privilege to present him with this award. What stood out about him is his commitment to getting involved, helping others and making a difference.
"It's significant to note just how many groups he's been involved in and from such a young age. He has a drive to help other people and making sure their voices can be heard.
"The sheer tenacity and energy that he's shown is absolutely exceptional and I am delighted that he is our overall winner this year."
Commenting on all of the young people who were praised for their accomplishments and who received district awards at the event, Councillor Taylor went on to say, "These awards are now in their 11th year and the one constant is the young people's ability to impress us. I am thrilled that we gathered here to celebrate these young people for their hard work and resolve in facing challenges, and for their many achievements. They are all commendable winners and very special young people that Nottinghamshire can be rightly proud of."
Returning to County Hall for the first time since the Covid pandemic, the ceremony saw eight young people presented with a district award in recognition of their efforts.
Other district award winners:
Ebony Hutton, 19, from Kirkby-in-Ashfield. She has dedicated her time and passion in setting up the 16+ and care leavers groups for young adults who are care experienced.
Chloe Bibb, 12, from Bircotes. She has overcome personal challenges and is a senior member at Bircotes young people's centre where she supports sessions and welcomes new members to the club.
Luca Pandur, 19, from Beeston. Losing her best friend in a tragic accident, she has worked hard to get through a difficult time and channels her energy into helping others.
Kieron Roper, 18, from Mansfield. He uses his experiences of being looked after and advocates for all looked after children and young people in the care system.
Hayden and Jamie Roberts, 24-year-old twins, from Boughton. They have overcome barriers presented by learning difficulties to work at a local charity, successfully learning about and encouraging recycling in their community.
Owen Stolworthy, 13, from Keyworth. He has gone through the personal tragedy of losing his father, throughout this he supported family members including looking after his younger siblings.
Young people and their families were joined by Cabinet Member for Children and Families, Councillor Tracey Taylor, Deputy Cabinet Member for Children and Families, Councillor Sinead Anderson, Chairman, Councillor Roger Jackson and the High Sheriff of Nottinghamshire, Paul Southby. Attendees enjoyed music from local groups, winners' inspiring stories and refreshments.
For more details about the awards visit the Nottinghamshire County Council website: www.nottinghamshire.gov.uk/4uth