Celebrating helping the county get out and about
Thursday, 19 October 2023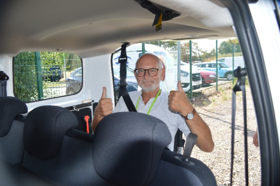 Volunteers across Nottinghamshire are being celebrated for all their dedication to helping others as part of Community Transport Week, which runs from 16 to 21 October.  
Nottinghamshire currently has 400 volunteer drivers providing support as part of the county council's grant aided Community Transport Schemes, and last year, they made nearly 41,000 trips to help others.

Nottinghamshire County Council's support for Community Transport car and minibus schemes relies on members of the public volunteering their own time to transport members of the public around the county and help them remain independent. The service is available to those who cannot use public transport due to their age, disability or where there's limited access to public transport.

The schemes operate as part of the £125,000 Local Communities Fund grant aid from the council.

Councillor John Cottee, Cabinet Member for Communities at Nottinghamshire County Council, said: "It's vital that we have ways to help Nottinghamshire residents remain independent and the Community Transport scheme does just that.

"Annually we're helping over 3,300 people make necessary journeys including getting to medical appointments which shows how much it is relied on. Without the 400 drivers we rely on to deliver this service this just wouldn't be possible so we want to say a big thank you to them for giving their time to cover over 430,000 miles last year to make sure those people could still get out and about."
When Dave, who is a volunteer driver for Bassetlaw Action Centre was asked what he enjoys about being a volunteer driver, he said: "I have been volunteering for Bassetlaw Action Centre's Community Car Scheme for a number of years now and I have to say it's a marvellous way to spend your time if you've got some free time.
"I know how appreciative the people are when they on visits to where they need to go and to places where they enjoy going.  It's been a great thing to do and I think anyone would enjoy themselves if they were doing it."
When asked about the importance of volunteer drivers that help deliver the service, Jayne Bullock, Transport Manager for Bassetlaw Action Centre, said: "Our volunteer drivers are the wheels that keep our local community moving forward. Their selfless dedication and tireless efforts bring about a transformative impact. By offering transportation services to those who are unable to access public transport, our volunteer drivers bridge the gap between isolation and connection.
"They ensure that individuals can attend crucial appointments, social events, and enjoy activities that would otherwise be out of reach. In doing so, they not only restore a sense of freedom but also uplift the spirits and well-being of those they serve. Our volunteer drivers truly embody the essence of community support, making a difference one ride at a time."
If you are interested in volunteering with a community transport scheme you can do so on our volunteer drivers webpage.
The Autumn applications are now open for the Capital and Revenue grants Local Communities Fund (LCF) which is a discretionary financial contribution awarded by the council to support the delivery of projects that help to deliver the strategic aims of the council and the Local Communities Fund.

Find out more about Community Transport Week
ENDS