Boost for local facilities thanks to latest round of community funding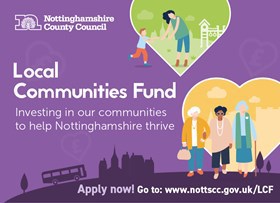 Fourteen community groups and charities are set to share almost £170,000 to help improve local facilities such as sports clubs, play parks and community centres.
It's all part of Nottinghamshire County Council's ongoing commitment to encourage healthy and thriving communities as the county continues its recovery from the Covid-19 pandemic.
This is the second round of the Local Communities Fund (LCF) which aims to support eligible groups in a number of ways, including capital grants towards facility-improving projects.
It follows the bumper £1.2m allocation last month, which benefitted 82 groups thanks to a mix of one-off capital grants and also revenue grants, to help groups meet essential running costs
.
Capital funding for a further 14 groups were given the green light at The County Council's Communities Committee after demonstrating that their projects will help communities live healthier and more independent lives, as well as having match-funding in place.
Committee Chairman, Councillor John Cottee said,
"This second round of capital funding aims to create new and improved facilities up and down the county. We hope it will provide a boost to organisations and volunteers who worked tirelessly during the pandemic.
"To encourage healthy and thriving communities for the long-term, eligible groups can apply at any time for capital grants of up to £20,000 for projects with match funding already in place. These grants go towards improvements which will make a community an even better place to live, particularly those with an environmental focus."
The latest 14 groups to be awarded capital funds are
• Musters Sports and Social Club,
West Bridgford,
awarded £20,000 towards new fencing, new pathway, and clubhouse improvements.
• Blue Circle Barnstone Bowls Club, based near
Bingham
, awarded £2,670 towards a new bowling green mower.
• Paviors RUFC, based at Burntstump Hill, near
Arnold
, allocated towards £20,000, to help fund a single-story clubhouse extension.
•
Blidworth
on the Move Support Network, £9,000 towards the purchase of a second community transport vehicle.
•
Clumber Park
Cricket Club, £5,597 towards a new mower to help maintain the cricket outfield.
•
Tollerton
Methodist Church, £1,200 towards installing smart controls for heating, lighting, ventilation, and a new online booking system for the community hall.
•
Calverton
Parish Council, awarded £20,000 to help build an extension to the village hall.
•
Cotgrave
Town Council awarded £11,698 towards a play park improvements.
• R.E.A.L Foundation Trust based in
Mansfield
awarded £20,000 towards a new training kitchen and community café.
• Ladybrook Enterprises,
Mansfield
, awarded £12,310 to help fund new perimeter fencing and security improvements.
•
Caythorpe
Cricket Club will receive £10,920 towards improvements to clubhouse toilet facilities, including a disabled WC and baby changing facilities.
•
Eastwood
Town Council awarded £6,000 towards new heritage gateway signs.
•
Bilsthorpe
Parish Council receives £20,000 towards a multi-purpose play park.
• Portland College, near
Ravenshead,
receives £10,000 towards a new farm themed therapy centre – providing sensory based activities for disabled students and the wider community.
LCF is the successor to the Local Improvement Scheme (LIS) which came to a close in 2021/22.
However, 29 LIS-funded local groups continue to face challenges due to the impact of the pandemic so have been unable to complete their schemes.
Which is why councillors agreed to a further extension until March 2023 to allow for issues caused by the pandemic such as delays in acquiring planning permissions, not being able to secure contractors and delays in securing match funding.
Councillor Cottee commented,
"For those groups who have faced unforeseen setbacks, we have agreed that they can have more time to complete their projects and fully spend the LIS funds which were allocated before the pandemic.
"We want to do all what we can to help these projects to be successful and benefit the community."
Eligible groups can continue to apply for capital funds.
The Local Communities Fund (LCF) | Nottinghamshire County Council
ENDS