Avian flu: Nottinghamshire bird keepers must follow new housing order
Thursday, 3 November 2022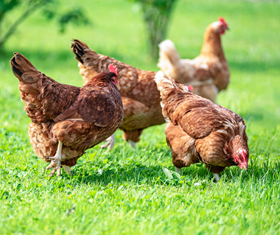 From Monday 7 November, Nottinghamshire businesses, schools and residents that keep poultry and/or captive birds will be legally required to keep them indoors, to protect their flock and reduce the risk of avian influenza.
Mandatory housing measures for all poultry and captive birds are being introduced to all areas of the country. This means that it will be a legal requirement for all bird keepers to keep their birds housed and to follow strict biosecurity measures to limit the spread and eradicate the disease.
The new restrictions build on the biosecurity measures that were brought in as part of the Avian Influenza Prevention Zone (AIPZ) last month. Regardless of whether birds are kept commercially or as pets, their owners are legally required to:
house or nett all poultry and captive birds
cleanse and disinfect clothing, footwear, equipment and vehicles before and after contact with poultry and captive birds – if practical, use disposable protective clothing
reduce the movement of people, vehicles or equipment to and from areas where poultry and captive birds are kept, to minimise contamination from manure, slurry and other products, and use effective vermin control
keep records of mortality, movement of poultry and poultry products and any changes in production
thoroughly cleanse and disinfect housing on a continuous basis
keep fresh disinfectant at the right concentration at all farm and poultry housing entry and exit points
Bird keepers should report suspicion of disease in England to Defra Rural Services Helpline on 03000 200 301.
The public are advised not to touch or pick up any dead or sick birds that they find. If anyone finds dead swans, geese or ducks or other dead wild birds, such as gulls or birds of prey, they should report them to the Defra helpline on 03459 33 55 77.
Councillor John Cottee, Cabinet Member for Communities at Nottinghamshire County Council, said: "The best way to protect birds against avian flu is for keepers to maintain strict biosecurity and hygiene measures.
"This new housing order is a legal requirement so anyone in possession of poultry or captive birds – whether it be a couple of chickens in a garden coop or a poultry farm – must follow the new measures to protect their birds from this highly infectious disease.
"I'd like to reassure residents that these are preventative measures and there is no immediate risk to human health. However, if you do find any dead or visibly sick birds please do not touch or pick them up, report them to Defra instead."
More information about avian influenza can be found at: https://www.gov.uk/guidance/avian-influenza-bird-flu#wildbirds
ENDS