Applications are now open for the Reduce, Reuse, Recycling Fund in Nottinghamshire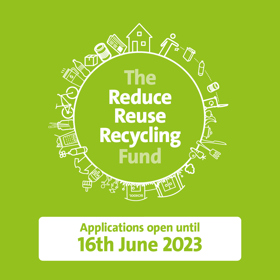 Applications are now open for the Reduce, Reuse, Recycling Fund, run by Veolia (Nottinghamshire County Council's waste and recycling partner). The fund is an environmental programme designed to support local, community-based projects that inspire people to think differently about waste and resources.
The funding is open to not-for-profit community groups, schools and charities based in the county of Nottinghamshire (excluding the city of Nottingham area) and grants of up to £1,000 are available for initiatives that help Nottinghamshire to Reduce, Reuse or Recycle waste.
Funding can be granted for a variety of projects and activities including in-person or online workshops, social media campaigns, practical equipment, education activities or even promotion and awareness raising. This could be anything from swap shop events, repair workshops, community gardens (that make use of reused, reclaimed, or recycled materials), food growing, food waste reduction initiatives and composting schemes. These projects could be at home, school, place of work, online or at a local event.
In 2022, the Reduce, Reuse, Recycling Fund supported many different local groups, and here are a few examples:
Coddington C of E Primary and Nursery School developed a new recycling project and needed funding to kickstart their recycling journey. This project was used to educate young minds on how to recycle properly and improve awareness of the environment and climate change.
Lady Bay Community Association Litter Pickers received funding that went towards buying new equipment to help them continue their amazing work in keeping the streets of the Lady Bay area clean.
The Rope Project supports vulnerable people and families who are allocated unfurnished accommodation after fleeing domestic abuse, homelessness, and other distressing life events. The funding helped them buy second hand electrical goods to provide a comfortable home and living situation.
The Boot Room Workshop works to provide sports equipment and clothing to adults and children. The funding went towards donation bins placed in local businesses for people to donate old clothes and equipment, which are then cleaned and made new, reusing materials to benefit the local community.
Steve Newman, General Manager for Veolia Nottinghamshire, said: "In Nottinghamshire we are committed to working with the local community to encourage better ways of reducing waste to help create a better climate. Veolia is committed to tackling climate change and pollution, becoming the benchmark company for ecological transformation.
"By reducing, reusing and recycling waste, we can transform the environment and establish a more sustainable future. The fund strives to help organisations across the region that share this ethos, assisting them in achieving their goals and thriving as a key part of the community."
Councillor Neil Clarke MBE, Cabinet Member for Transport and Environment at Nottinghamshire County Council, said: "We know that Nottinghamshire residents are eager to make a difference in their communities whilst also protecting the environment. There is already so much taking place at a community level and the Reduce, Reuse, Recycling Fund is a great way to boost this action. If you're a school, community group or charity with an idea to challenge how we think about waste then I encourage you to submit an application."
Who can apply to the fund?
Properly constituted and non-for-profit organisations such as schools, charities, community groups are eligible to apply for up to £1,000. The fund can be used for a wide range of projects and campaigns, whether needed for equipment, educational materials, the running of workshops and more. We are looking for innovative and creative ways to promote reducing, reusing and recycling, to inspire the community and generate change in Nottinghamshire!
How can I apply?
Applications can be made online at: www.veolia.co.uk/nottinghamshire/reduce-reuse-recycling-fund or application forms can be requested by calling 0203 567 4391.