£245k investment helps to fund new mobile youth centres in Nottinghamshire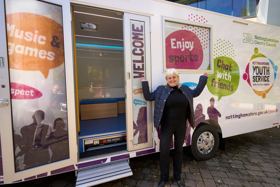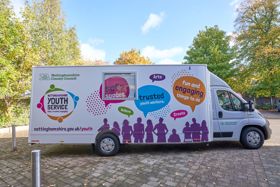 Nottinghamshire County Council is investing over £245,000 into the replacement and refurbishment of purpose-built mobile youth centres in the county.
The newly refurbished vehicles are cleaner and more eco-friendly than the vans that were previously in use. Modern adaptations include insulated doors and energy efficient LED lighting, as well as lightweight materials to reduce fuel consumption and the van's carbon footprint.
The aim of the mobile youth centres is to provide a safe place for young people ages 10-19, or up to 25 years old with disabilities, to socialise, meet friends, and take part in a variety of engaging activities managed by specially trained professional youth workers.
With an investment of £122,500 for each van, the council is keen to provide an ongoing level of commitment to youth services in Nottinghamshire.
Young people were closely involved throughout the whole process of designing the new mobile youth centres - providing their input on colour schemes, resources, interior design, activities, and the graphic designs to feature on the vehicles.
Cabinet Member for Children and Families, Councillor Tracey Taylor, said:
"This replacement programme will help deliver our ambition to give young people a safe place to go, interesting things to do and to meet up with friends. We are very proud of our youth services in Nottinghamshire and keen to continue to invest in them. The young people's direct input also means a lot.
"Mobile vehicles reach more young people and solve some of the issues that might prevent them from accessing traditional youth service buildings. The vans look amazing and are fully equipped and highly versatile. They are being used to offer our regular youth sessions, as well as school holiday clubs."
Users of the service can access a variety of support and fun activities including useful information, the opportunity to go on day trips to local venues and events, take part in arts and crafts, and participate in various sports.
A young person enjoying the use of the mobile youth centres, said:
"The youth workers make you feel welcome, it looks great inside and keeps us off the streets. We can play our own music at the back and chill or play card games. We get looked after once we're here and it's got a good feel about it."
There are four mobile youth centres, old and new, currently operating across Nottinghamshire.
For more information about the youth services available in Nottinghamshire, visit: Youth services | Nottinghamshire County Council
-ends-