Success stories from local apprentices
Apprenticeship opportunities are available across many locations in Nottinghamshire and in many different career areas. Below we hear how some local apprentices are getting on in their apprenticeships.
Jordan Lovatt, Software Development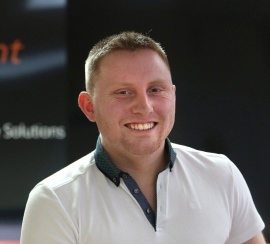 Dentsys provides software for dental practices helping them to manage dental treatments, appointments and general practice management in the most cost effective way helping both patients and clinicians.
Dentsys employs 15 people and recognises the benefits that apprentices can bring to the business –in fact two members of the current team started out as apprentices.
Jordan Lovatt, 19 from Arnold, joined Dentsys in the summer of 2014, as a Software Development Apprentice undertaking an NVQ Level 3 in ICT.
"I wanted to learn while earning and decided University just wasn't the route for me. I started at college but wanted to get a job. Searching online for jobs I came across the National Apprenticeship website and I've not looked back."
Working as part of a small team, Jordan believes the skills and experience he's gained will help to give him the edge in the future. "I'm constantly learning new skills at the same time as earning money and I'll get a qualification at the end of the apprenticeship. It's a good place to work and I'm learning something new every day. You can't beat it."
Asked if he'd recommend apprenticeships to other young people, his response is quick and confident: "I definitely would, it's a good way to learn new skills."
---
Grace Sheard, Business Administration
Rototek employs 80 staff from their premises in Newark and Worskop. The firm uses cutting edge technology to manufacture small to large plastic based, moulded products ranging from medical supplies to sporting goods.
Grace Sheard joined the firm in August 2014 after completing AS Levels at Toot Hill College. 
Studying an NVQ Level 2 in Business Administration has helped Grace to realise the benefits of learning and earning. "I am learning all aspects of working in an office. I process invoices, send emails, answer the phone and meet and greet visitors at reception. I would say if you don't have to go to University to get qualifications, and you can find a good employer like I have, you can get good experience while being paid. I haven't looked back."
---
Keia Watson, Hospitality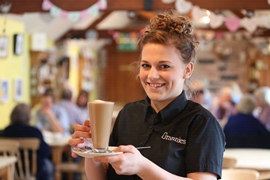 An extra pair of hands has joined the team at Grannies tearooms in Cotgrave.
Established 15 years ago, Grannies has a core staff of nine with extra people taken on at particularly busy holiday times.
Keia Watson aged 16 from Cotgrave has been with the team since October 2014 and has fitted in well at the tearooms. 
Louise Beaumont, one of Grannies directors, explained: "Keia is very capable and is now learning some culinary skills. When we're busy it's great to have Keia working alongside us delivering the high standards of service our customers expect."
Keia is enjoying her role and is hoping to stay with Grannies once her apprenticeship is completed: "I really enjoy the variety of the work and I'm very pleased to have landed such a great role with such a positive team."
---
Georgina Knight, Accountancy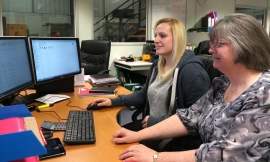 3D Laser Mapping is a world leading provider of laser scanning technology. The company offers the very best technical support to hundreds of international mining, government, academic and blue-chip customers, by offering 3D technical solutions for the highways, power lines, railways and buildings industries.
With a strong desire to succeed in a career in Accountancy, Georgina Knight recognised a great opportunity when she saw one and leapt at the offer to join 3D last year. Georgina is now studying for her AAT accountancy qualifications and hopes to become an accountant. 
"My Newark College tutor pointed out the apprenticeship opportunity to me and I'm really pleased I took this step to advance my career" said Georgina.
"I'm already developing new skills and working with the complex Sage Accpac accounting system, raising invoices as well as performing other accounting activities. I'm hoping to stay with the company once my apprenticeship is completed in 2016."
"An apprenticeship is a great way to learn, giving the best of both worlds of learning and working. I'd definitely recommend it to my friends."