Youth voice and youth parliament
Voice and Youth Parliament
Youth workers work closely with young people in lots of different ways to ensure young people have a voice, that they are heard, and that they have the skills and knowledge to make changes to their own lives and the world around them.
This is done in lots of different ways which all fit within our participation structure.
This image shows some of Broxtowe District youth forum campaigning at a local event about the environment.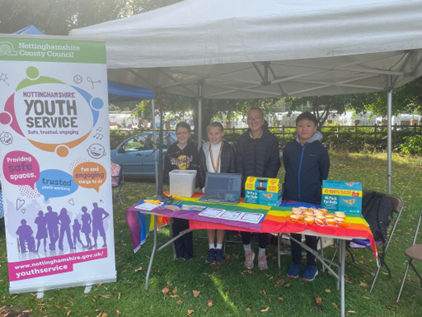 Management committees
Management committees in our young people's centres offer young people an opportunity to make decisions about how club money is spent, shaping the activity programme and input on trips and residentials.
District Youth Forums
District Youth Forums feature in each district of our county and enable young people supported by a youth worker to campaign on issues relevant to their local community and on behalf of other young people often engaging with elected members and community leaders. District youth forums are chaired by Members of Youth Parliament, who are elected by their peers There is also a forum specifically for disabled young people which is also chaired by a members of youth parliament.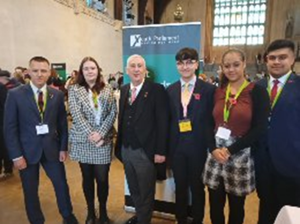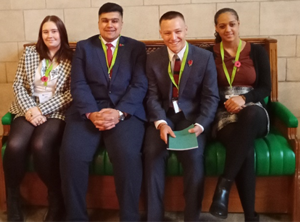 Members of Youth Parliament (MYPs)
There are eight MYPs for Nottinghamshire, one for each of the seven districts and an MYP who represents disabled children and young people. MYPs are aged between 11 and 18 years old.
Once elected, MYPs meet with MPs and local councillors, organise events, run campaigns, make speeches, hold debates, and ensure the views of young people are listened to by decision makers.
The most important aspect of any MYPs job is to make sure they represent the views of the young people in their constituency.
Nottinghamshire MYPs are supported by Nottinghamshire County Council's Children and Young People's Participation Team.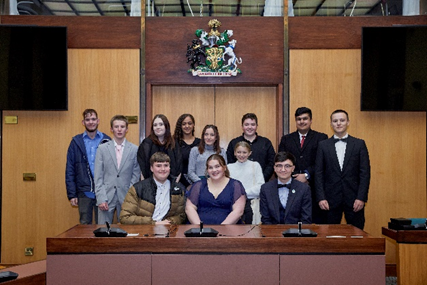 Nottinghamshire Young Peoples Board
The Nottinghamshire Young Peoples Board is made up of the 8 Members of Youth Parliament, The Chair of the Voice of Adoption Forum, and Chair of the Children in Care Council alongside an independently elected Chair and the steering group representative for the British Youth Council. The Board meets 6 times per year and is supported by elected members and the senior leadership team for the youth service.
If you are interested in taking part in the any of the work that the team supports, please contact the team via Countywide.Youthservice@nottscc.gov.uk we will be happy to provide you with any further information and support.