Campaign toolkit
The campaign toolkit is a one-stop-shop where you can get promotional materials for County Council campaigns and help to spread the word.
Each campaign includes electronic files of posters and leaflets, social media messages which you can share at the click of a button, and press releases.
Current and recent campaigns

Big Notts Survey
The Big Notts Survey is a conversation with the people of Nottinghamshire to help shape the future of the county.
The survey opened on 2 August and closes on 19 September 2021, and in that time we want as many people as possible to take part. Feedback from the survey will form the cornerstone of the Council's new ambitious Council Plan that looks to the next 10 years and beyond.
All residents can take part by completing the online survey or by picking up a printed copy from all county libraries, Children's Centres and other council buildings. Alternative versions of the survey are also available online which have been prepared specifically for Nottinghamshire businesses and for young people.
The links below let you download or share content to help spread the word so we can build a better future Nottinghamshire that benefits us all.
Poster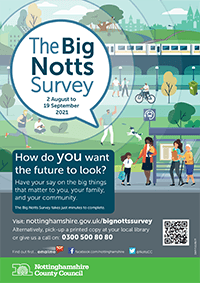 Survey booklets
Social media
📣 💚 THREAD | Tell us what matters most!#COVID19 has changed things for us all. We've all locked down and stayed home and some have experienced personal grief and loss.

It's truly a time we'll never forget. Now, as we look to the future, we want to focus on recovery… pic.twitter.com/87jP7SL4mS

— Nottinghamshire County Council (@NottsCC) August 2, 2021
Videos
Press releases