Campaign toolkit
The campaign toolkit is a one-stop-shop where you can get promotional materials for County Council campaigns and help to spread the word.
Each campaign includes electronic files of posters and leaflets, social media messages which you can share at the click of a button, and press releases.
Current and recent campaigns

Nottinghamshire needs YOU to care
We have launched a major recruitment campaign to help our care providers fill vacancies across the county.
There is a wide choice of roles available working as a care professional with younger and older adults. The variety of roles include caring for residents in care homes, helping individuals to remain safe and independent in their own homes or supporting people to manage their lives in both the local community and at home.
The roles offer flexible hours to fit around family and social life, and many of the vacancies don't require previous care experience as full training is provided. The most important quality that providers are looking for is people who have a passion for caring and who want to support others to live their best life.
Further information on each role and how to apply with our care providers is available on our campaign web page
The links below also let you download or share content to help spread the word and encourage people to consider a career in care. 
Posters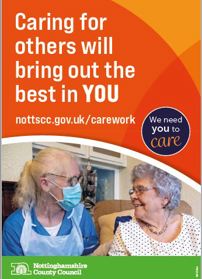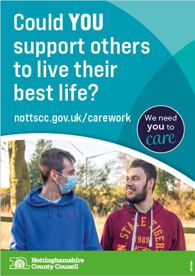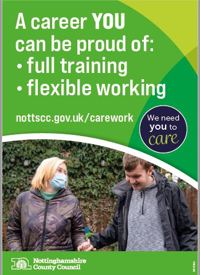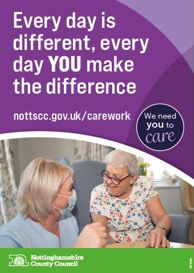 Provider recruitment campaign posters [PDF]
Social media
🤗 Could you support others to live their best life? Apply now for a rewarding career as care professional. There are various roles available working with younger & older adults offering full training & flexible hours. Find out more👉 https://orlo.uk/CareWork_MnRCd #AdultSocialCare

— Nottinghamshire County Council (@NottsCC)

29 Jan 2022
🙌 A career you can be proud of 🙌 If you'd like to support others to live their best life, apply to join one of our caring teams today where every day is different and every day you make the difference. There is a wide choice of roles available working with younger and older adults. Find out more 👉 https://orlo.uk/carework_Qp3PO.

Posted by Nottinghamshire County Council on

19 January 2022

 
Videos
Here are some videos we have produced of our care professionals describing their roles and their journey into care
Home care professionals
Younger adult care home professionals

 

Older adult care home professionals


Supported living care professionals

 
Press releases