Notts children benefitting from the best start as plans to expand services into family hubs start to take shape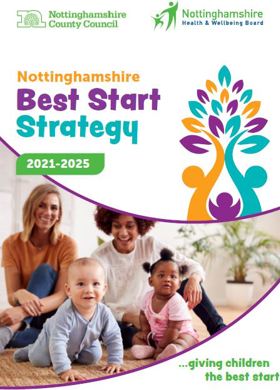 One year on from the implementation of the Best Start strategy, Nottinghamshire County Council's children and young people's committee this week (Monday 25 April) reflected on what has been achieved so far and agreed the next steps.
A child's first years play a big part in their development and the vision for the Best Start partnership is for every child to achieve their potential regardless of their circumstances.
Ambitions include helping parents-to-be prepare for parenthood, helping them to establish good family relationships, ensuring sufficient high quality early years provision and that children are ready for nursery and school.
Through the first year the county council's early childhood services teams have supported the partnership approach and successfully delivered a number of results:
Baby and Breastfeeding Encouragement and Support (known as BABES groups) led by parent volunteers are available across the county and provide peer support for breastfeeding parents and offer practical hints and tips. Currently 33 breastfeeding peer support volunteers work with the council and now also offer an antenatal BABES programme.
Groups for new parents focused on helping parents and carers establish positive relationships with their new babies have been established across Nottinghamshire.
A range of support for post-natal stages has continued to be delivered in 2021-22, including more than 1,000 parents accessing baby massage courses helping parents and babies develop positive and secure attachments.
The take up rate for eligible 2-year-olds is increasing and is now higher than pre-lockdown levels, with 83% of eligible children taking up a place in the spring term 2022.
One mum-to-be, Melanie MacKenzie, from Hucknall, whose midwifery services are at the local Butler's Hill & Broomhill Children's Centre, has praised the Best Start approach, saying, "It's great to see that all the different services that will support me, my partner and our new baby are working together to make sure everyone gets the support they need, when they need it".
The next steps will see early years support continue as a priority for the council, at the same time as looking to build the family hub model so that families across the districts benefit from the services from conception until children reach the age of 19 (or up to 25 if young people have special educational needs or disabilities).
It is intended that family hubs will support a child's critical early years development and beyond. Accessible, joined-up services will provide universal and seamless support for Nottinghamshire families.
The experience of the pandemic and lockdown has, by necessity, enabled new and creative ways to deliver services and support. Virtual tools offering easy access and convenience has been a positive change and both building-based and virtual services will have their place in the new model.
In December 2021, committee agreed to create the county's first family hub in Retford. It will now consult on Hawtonville Children's Centre in Newark and Summerhouse Children's Centre in Ashfield to become family hubs. Both are in priority neighbourhoods and have space to continue offering children's centre services at the same time as increasing the scope of services offered.
Councillor Taylor said "We have big ambitions for children and young people in Nottinghamshire. Giving all of Nottinghamshire's children the best start in life is something we are committed to and I'm proud of what has been delivered for families so far. But we are not complacent, we know that there is more that can and should be done and the partnership will help to identify priorities and keep progress on track.
"The potential to expand the family hub model so that we can provide joined up, easy access to support in one place is good news for families. The partnership will ensure that local family hubs maintain a strong focus on Best Start so that antenatal support and the first 1,001 days of a baby's life are at the heart of services.
"I'm pleased that we will be in a position to start local consultation in the coming months for two more family hubs, offering a broader range of joined-up services for our children and families."