Preparing for a flood
Find out if you're at risk
The Environment Agency website has detailed, searchable maps that show if your property and community are at risk of flooding from:
When is flooding likely?
Flooding usually occurs as a consequence of a prolonged period of rain or heavy downpours. It's hard to predict when flooding will happen. However, there are services available that can help you be aware when a flood is possible.
Flood warnings
Sign up for flood warnings. The Environment Agency's Floodline is a free service that provides flood warnings directly to you by phone, text or email. It applies for households and businesses at risk of flooding from rivers or the sea. Early flood warnings allow you to take appropriate actions and prepare for the possibility of flooding. 
Local weather forecasts
Check the local media and local weather forecasts for the latest situation and warnings.
Email updates
Register to receive our emailme flood bulletins. They'll provide advice and information on how to be prepared, how we're responding and the latest situation in Nottinghamshire.
Planning and being prepared
It is impossible to stop all danger of flooding but you can take measures to reduce the effect on you and your family and help minimise damage to your property.
Make a flood plan
The Environment Agency have an online tool to help you make a plan of what you need to do and think about if flooding is threatened.
Our emergency planning team also provides information on how to be prepared for emergency situations, including flooding.
Prepare your property
If you are a homeowner, it is your responsibility to protect your property from flooding. There are a range of practical actions that you can take to reduce the impact of flooding on your property, from adapting your home to putting wider flood defences in place. 
Sandbags
Sandbags are a short term and relatively cheap way to manage flooding but only if they are filled and placed correctly. However, they are relatively ineffective when compared to purpose-designed flood protection products. They are of no use if a property is already flooded. Instead, residents should concentrate their efforts on protecting  family members and belongings.
The Council has no legal duty to provide sandbags - it is residents' responsibility to make sure their property is protected as far as possible. However, when flooding is threatened, we may have limited supplies of sandbags that we can provide to vulnerable residents, who are unable to provide for their own.
Where heavy rainfall or flooding is sudden it will be difficult for delivery of sandbags to reach residents in time. We advise that all households and businesses wishing to use sandbags purchase them in advance from local DIY stores and builders merchants, many of which offer a same day delivery service.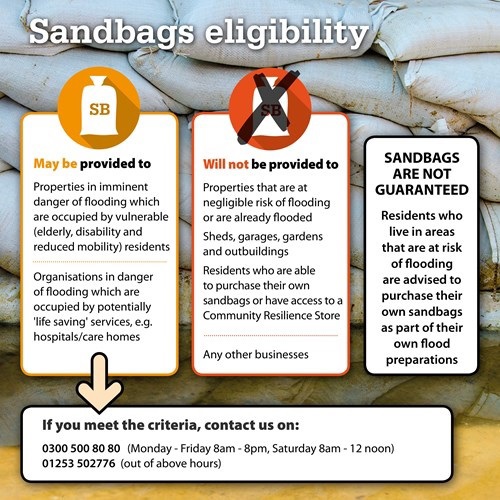 Insurance
Ensure you have home insurance in place to cover both building (unless rented) and contents.
If you have building cover, your insurer should dry, clean, repair and restore your home.
If you have contents cover, your insurer should dry, clean and restore your possessions or replace or pay for any possessions that cannot be cleaned up or repaired.
Find out about getting about insurance when living in a flood risk area.
Flood Re
Flood Re is an insurance scheme set-up by government and insurers. It helps homeowners in need of insurance in flood risk areas.
Find out more about Flood Re [PDF].
How your community can prepare
Flooding usually affects whole communities not just individual properties. If your area is at risk, work together with other people in your community so you can prepare, act together and support each other. During widespread flooding it helps emergency services if communities are able to support the response and are prepared for flooding. 
Know your responsibilities
An ordinary watercourse is any natural or artificial channel that water flows through, such as a river, including where a river flows through a culvert, brook, beck, or mill stream. If you own land or property along an ordinary watercourse you have responsibilities that include: maintaining the bed and banks of the watercourse and allowing the flow of water to pass without obstruction and so help prevent flooding. 
Can we help?
For further information and advice on how you and your community can prepare for flooding, contact:
Emergency Planning
emergency.planning@nottscc.gov.uk
0115 977 3471
For advice on owning a waterside property and your responsibilities, contact:
Flood Risk Management
flood.team@nottscc.gov.uk