Free flu jabs for frontline workers supporting vulnerable people
Flu is an unpredictable virus that can be unpleasant, but if you're otherwise healthy it'll usually clear up on its own within a week or two. However, among vulnerable groups like older people, pregnant women and those with an underlying health condition it can cause severe illness and be fatal.
Demand for NHS services during the autumn and winter is high.  Preventing flu can reduce this demand by reducing the need for people to be hospitalised.  This is particularly important while Covid-19 is still in circulation.
As part of the 2020 seasonal flu vaccination campaign, the Council is providing free flu jabs for eligible frontline staff.  This will protect them from the flu and in turn protect those people they work with.
We have made it as easy as possible – clinics are being held at a number of office bases, residential homes, children's centres and special schools, or you can request a pre-paid voucher by completing our online form. 
The on-site clinics will run from the end of September until the middle of October and can be booked through EventBrite. Clinics will be run according to the current Covid-19-secure guidance to protect the health and safety of everyone who attends.
Due to unprecedented demand, we have unfortunately had to suspend our flu voucher scheme. If you have already requested a voucher, you should still receive this. However, we cannot take any new requests. If you receive a voucher, you can use it at any participating Boots Pharmacy before 31 December 2020. You will need to contact them to make an appointment once you receive your voucher.
The sooner you are vaccinated the sooner you will be protected – please book into a clinic or use your voucher as soon as possible.

Eligibility
The free flu jabs and vouchers are available to the following teams that regularly come into close contact with vulnerable service users:

Eligible Teams 2020

Test your knowledge with the Flu Bee game!
We want to ensure that all staff and service users are protected from flu. If you have some questions about why you should get your vaccination, play the Flu Bee Game – it busts flu vaccine myths and helps you to understand why it's so important to get vaccinated. The game takes just 5 minutes to play and works on computers, smartphones and tablets.Test what you know about flu and the flu vaccine by trying the FluBee game!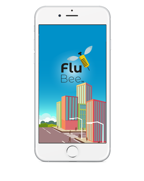 Play now!
---
See why your colleagues are getting their flu jabs!
See why your colleagues think the flu vaccination is important and why they will be getting their flu jab this year:
NHS seasonal flu campaign
In addition to the Council offer for eligible staff, the NHS seasonal Flu Campaign 2020 promotes the uptake of an annual flu vaccination for people in at-risk groups. 
The following people are eligible to receive a free flu jab, those who:
are 65 years of age or over (50-64-year olds may also be offered a jab later in the season)
are pregnant
have certain medical conditions.
People living with someone who's at high risk from coronavirus (on the NHS shielded patient list).
Children aged 2-3, primary school children and year 7 children.
Frontline health and care workers.
Find out more about the NHS flu vaccination programme from the NHS Choices website.
Did you know…
the adult flu jab does not contain a live virus so it is impossible to get flu from it
the vaccine is the single most effective protection against flu
being healthy does not protect you against flu and you could be spreading the virus with no symptoms
flu strains change every year, so it is important to get your vaccination every year.
More information