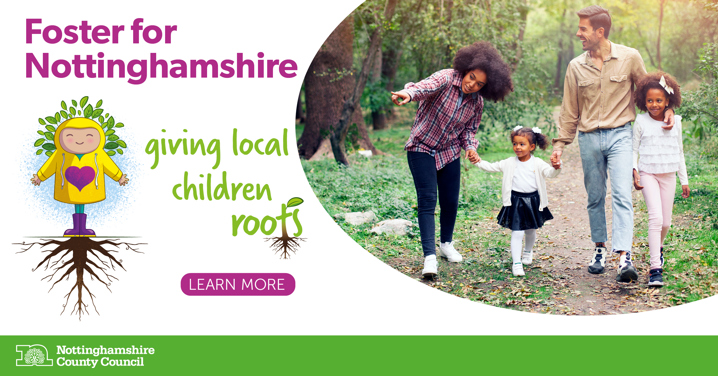 Throughout the coronavirus pandemic, the need for foster carers in Nottinghamshire has remained high, and Nottinghamshire County Council is appealing for anyone who is interested in fostering to come forward and find out more about the rewarding role. 
It is as important as ever for people to come forward as foster carers during the coronavirus crisis, as children and young people continue to face challenges and turbulent home lives, foster carers are able to step in and help them. 
The global pandemic has impacted people from all over the county in different ways, and those who have been able to work from home during the pandemic have often found that their perspective on work/life balance has changed, and increased time spent with their loved ones has benefitted the whole family.  
By becoming a foster carer, your time is prioritised around your family and the children in your care. Whatever your situation, if you are interested in fostering, the council's fostering team want to hear from you. Foster carers receive competitive weekly payments to help support them in caring for Nottinghamshire's Looked After children. 
While government guidance has meant that the fostering team has been unable to hold their usual public fostering information evenings, they are still very much available and are now holding regular 'virtual coffee and fostering chats' via Microsoft Teams video calls. The next virtual chats will be on Monday 5 October at 11am and Wednesday 21 October at 10am, where everyone is welcome to join and listen to a short presentation about fostering with the Council.

Find out more
More information about fostering, plus details and links for all upcoming events are on the council's website and fostering Facebook page.