Southwell Flood Risk Management Project
The county council and partner agencies are working hard to protect at-risk homes from flooding in Southwell. We have set out detailed plans for flood mitigation schemes in the town, as well as natural flood management schemes and property flood resilience (PFR) measures.
PFR measures are designed to protect properties which do not benefit from the flood mitigation schemes. We have commissioned Via East Midlands to carry out the works, some of which will be in place by Autumn 2021.
We are working with partner agencies to deliver a number of mitigation schemes, as well as natural flood management on land up-stream if Southwell to further improve the town's flood defences.
The Southwell Flood Alleviation Scheme
As part of its wider £5m flood mitigation proposals, Nottinghamshire County Council and its partners are working hard in Southwell to make sure that homes which are most vulnerable to future flooding are as well-protected as possible.
Substantial progress has been made in developing detailed designs for five flood mitigation schemes in the town to help make the community more resilient to flooding. Delivery of numerous natural flood management schemes and the implementation of property flood resilience (PFR) measures have also commenced.
PFR measures are designed to protect individual properties that do not benefit from the five flood mitigation schemes. The county council has commissioned Via East Midlands to design and deliver these 5 schemes which will help alleviate flooding in the town. Details are currently being developed and three of these should be complete by the end of this year with the others set to be in place by autumn 2021.
The county council is also working with the Southwell Project Board, Southwell Flood Forum, Newark and Sherwood District Council, Trent Rivers Trust and the National Flood Forum and other partners to install natural flood management (NFM) features on land upstream of Southwell to help further improve the town's overall flood defences.
A £4.3m project is underway to protect over 250 properties and businesses from flooding in Southwell and has been funded by:
Flood Defence Grant in Aid: £2.87m
Local Levy: £300k
Nottinghamshire County Council: £600k
Newark and Sherwood District Council: £220k              
Southwell Town Council: £120k                                     
Southwell Flood Forum: £25k                                    
DEFRA Repair and Renew Grant: £233k                      
Engineering works
Engineering work is being undertaken by Via East Midlands. This process involves regular checks on which properties benefit from the proposals to inform other elements of the project. This phase of the scheme is due to be completed by March 2021.  
Property Flood Resilience
We are committed to protecting homes in Southwell from flooding and are working with partner agencies to provide bespoke solutions to homes which do not benefit from the scheme. These proposals include:
installation of flood doors
airbrick covers
flood barriers
Slowing the Flow
We have used natural flood management in over 20 locations in the upper reaches of the catchment in Southwell. This approach is designed to slow the flow of water by using natural techniques and will be completed by March 2020.
Lowes Wong School Retrofit Sustainable Urban Drainage System
Our Property Team have been working on an initiative to rationalise how surface water is managed on the site of the Lowes Wong School. Investigations found that significant amounts of water ran off the site in storm conditions and this has been alleviated by storing the surface water on the school site allowing it to seep back into the ground at a slower and controlled pace. The works were completed in August 2020.
Super Gullies in Halam Road
Teams from Via East Midlands have installed five 'super gullies' in Halam Road. These are an effective low-maintenance and high capacity solution to rapidly remove water from the road which is prone to flooding and this is a first for Nottinghamshire. 
To install the super gullies, large pits had to be dug out to allow drilling rigs on site and pipelines leading to the balancing pond adjacent to the road were fitted. The installation of the super gullies was completed in November 2019.
The new super gullies and pipes can be up to nine times more efficient than standard road gullies in extreme rainfall and will help direct previously uncontrolled surface water into the pond rather than overland into the surrounding estates.
Download a copy of the site map [PDF]
Miller Homes has its own drainage system that will carry water into the pond via a new drainage network.
Super gullies at work
The recent storm events have given us a chance to see the Halam Hill flood alleviation scheme in action. During the storm on the afternoon of Sunday 9 February, a significant volume of dirty overland run off water flowed down Halam Hill and Allenby Road travelling down the carriageway towards Southwell. The photo below shows the volume of runoff water flowing down the road 'upstream' of the Halam Hill scheme.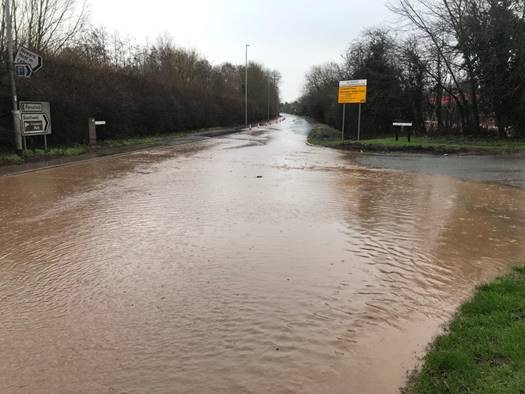 We are content that scheme did perform as designed, with the gullies taking away a portion of the surface water and the combination of an elevated road profile and an additional channel designed to pick up any water that remains on the road downstream of the super gullies addressed the rest.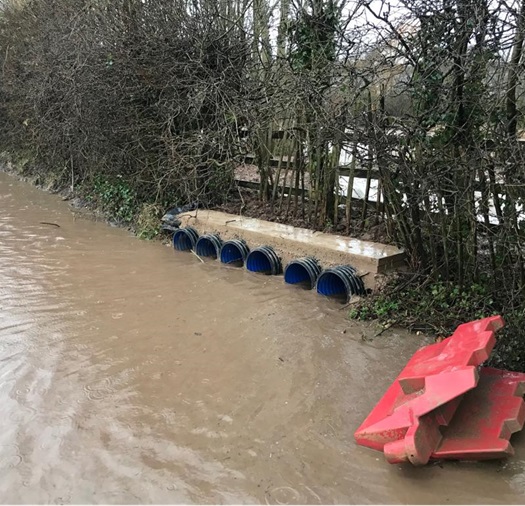 Video footage taken at a site inspection has confirmed that no surface water continued down the carriageway beyond the newly implemented scheme. The attenuation pond performed as designed with plenty of spare capacity.  Flow data has confirmed visual observations, showing a highly 'peaky' storm event which then translated into a rapid increase in pond water level. The photos below clearly show the surface water being directed into the pond and not travelling down Halam Road as had previously been the case in storm events prior to the works being undertaken.
The silt trail in the photo below shows the direction taken by the flood surface water.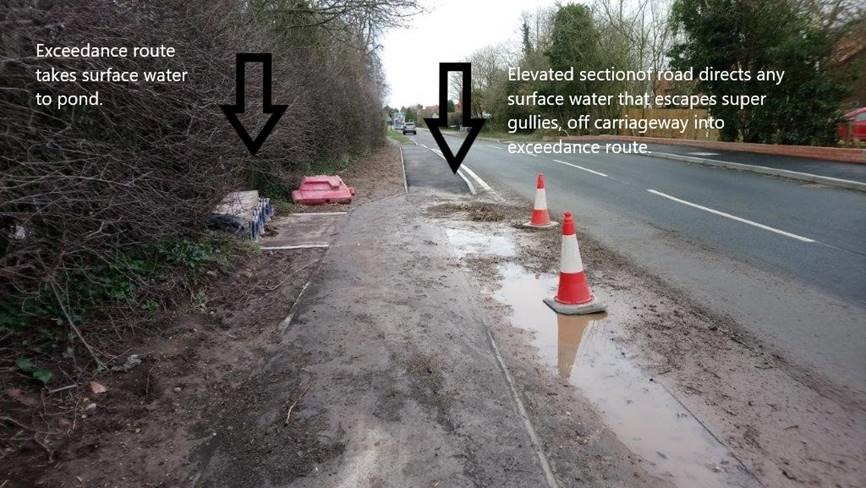 Southwell trail:
The works along the trail commenced in September 2019. This part of the scheme was initially focussed on improving connectivity to the River Greet. Works then transferred to the Trail itself where the existing ditch was re-profiled and lined with concrete canvas to significantly increase the volume of flood water which can be accommodated downstream of nearby properties. After a short disruption to site working due to the COVID-19 lockdown, work recommenced in June 2020. The trail is now open for public use.  Landscape work involving tree planting will be carried out during planting season later this year in 2020.
Potwell Dyke
Flood attenuation measures are being explored on the open space behind the former grammar school site on Church Street. The design team has undertaken substantial archaeological investigation and continue to liaise with Historic England and other key statutory and community based stakeholders to develop proposals that are fully mindful of the sensitivities of this site.
Find out more about the proposed scheme at Potwell Dyke
Area surface wide
A series of smaller scale highways drainage schemes are being developed to provide further protection from flooding.
As part of the area surface wide scheme, works at Hopklin Lane started at the beginning of September 2020. These works involve the installation of beany kerb drainage which will allow the surface water to run off  into the drainage system. This will replace the existing culvert that runs underneath Hopklin Lane which will improve the passage of the watercourse.
Proposals are also being developed to make surface water run-off more effectively along Church Street.