Via East Midlands marks a year of maintaining fire and rescue service vehicles in Nottinghamshire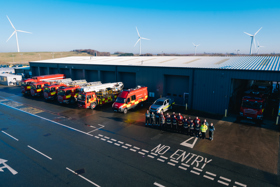 Via East Midlands and Nottinghamshire Fire and Rescue Service (NFRS) have marked the first year of a contract to maintain NFRS' fleet and equipment.
The five-year agreement, with the option to extend for a further five years, has already improved efficiency, reduced costs and downtime as well as improving operational reliability and providing additional resilience for the service.
As a company wholly owned by Nottinghamshire County Council, all profits generated by Via are reinvested directly into Nottinghamshire, providing an added benefit to residents across the county.
The contract, which commenced in July 2019, sees Via maintain over 100 light and heavy fleet vehicles including the service's fire engines, and an additional 400 items of plant. Via provides full servicing and repairs, auto electrician, vehicle recovery, roadside assistance, MOT testing facilities, exhaust emission testing and modifications, alongside bodywork repair and accident repair facilities, as well as Via continuing to deliver specialist fabrication services to NFRS.
In that time Via has completed almost 2,500 individual jobs NFRS, providing a full 24-hour service, 365 days a year. This also includes servicing and repairs of the service's ladders, pumps and fans, as well as their electric fleet.
The services are primarily delivered from Via's extensive workshop facility at Bilsthorpe, which caters for HGV and PSVs and is an authorised VOSA MOT testing facility. This is supported by Via's new workshop located at Castle Park Estate in Nottingham and a mobile service making use of facilities at fire stations around the county.
The partnership has provided additional employment in Nottinghamshire with Via expanding its fleet workforce, including the appointment of dedicated apprentices to specialise in the maintenance of the NFRS vehicles and equipment.
Doug Coutts, Managing Director of Via said:
"Nottinghamshire Fire and Rescue Service provides a vital emergency service across the entire county and Via is proud to have played a role in enabling them to deliver this critical service over the past year.
"Their service is closely aligned to our values and through improvements to reliability and downtime, combined with the reinvestment of any profits from the contract into front line services in the county, the contract provides multiple benefits to Nottinghamshire.
"The contract has already allowed us to expand our workforce and facilities throughout the county, including a brand-new workshop based at Queens Drive, Nottingham."
Councillor John Cottee, Chairman of the Communities and Place Committee at Nottinghamshire County Council, said: "Marking one year of this contract between Via and NFRS is an important milestone as it is the first fleet maintenance contract acquired by Via while under the county council's full ownership.
"We are proud to be working with one of Nottinghamshire's emergency services to maintain their large and varied fleet, including vehicles which respond to emergencies in our communities. 
"It is of critical importance that emergency vehicles are well maintained, and it is pleasing to have seen the relationship between Via and NFRS strengthen even further throughout the first year of the contract."
Head of Procurement and Resources at Nottinghamshire Fire and Rescue Service, Terry Scott, said: "Via East Midlands are providing a vital service in maintaining NFRS' fleet, with the contract being managed and executed in an extremely professional way.
"Via's high performing team gives confidence to our operational crews in the reliability of their vehicles and equipment."  
Via's fleet services team are vastly experienced in delivering fleet maintenance services to over 500 vehicles across both Via's own specialist highways fleet and Nottinghamshire County Council's fleet which provides key services such as schools transport and meals on wheels.