Public transport passengers reminded of guidance on face coverings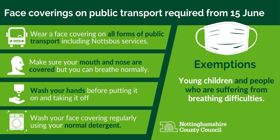 Public transport passengers are being urged to stay alert to new guidance on wearing face coverings, which comes into force on 15 June.
From this date, passengers travelling on all forms of public transport, including Nottsbus Connect services, will be required to wear a covering to help reduce the spread of coronavirus. 
Passengers intending to board a bus, coach, tram, train, ferry or aircraft must ensure that their nose and mouth are covered with either a homemade cloth face covering or a scarf which can be tied around the head.
Other advice when wearing includes washing hands before putting the covering on and taking it off, making sure it is washed regularly using your normal detergent, and not touching the covering while wearing it.
Passengers should be aware that while wearing a face covering will be a requirement, fellow passengers including young people and those suffering from breathing difficulties will be exempt from this.
Councillor John Cottee, Chairman of the Communities and Place Committee at Nottinghamshire County Council, said: "As lock down measures continue to ease and people begin to resume travelling, it is important that we follow the government advice on face coverings in environments such as public transport where social distancing may not always be possible.
"All public transport users across Nottinghamshire should plan ahead to ensure they have a face covering to wear while travelling, and instructions on how to make your own at home can be found on the government website.
"Passengers of our Nottsbus Connect services will be required to wear a face covering, even while the majority of these services remain as on demand.
"The safety of our communities remains as important as ever and we will continue to review all measures in place as Nottinghamshire begins to recover from the outbreak."
Timetables and details on how to use the Nottsbus on-demand service can be found on our website. (https://www.nottinghamshire.gov.uk/transport/public-transport/nottsbus-connect)
Further information on face coverings, including how to make your own, can be found on the GOV.UK website: https://www.gov.uk/government/publications/how-to-wear-and-make-a-cloth-face-covering/how-to-wear-and-make-a-cloth-face-covering