Pressing forward with the Gedling Access Road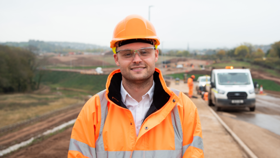 The benefits of a major new road in Nottinghamshire - which will unlock development opportunities, create employment and deliver affordable housing – 'far outweigh the costs', according to county council leader Ben Bradley MP. 
Nottinghamshire County Council is looking forward to the completion of the Gedling Access Road.  The £40m major new road, which has been in development for decades, will bring much needed new housing, jobs and less congestion in the area.
Councillor Ben Bradley MP, Leader of Nottinghamshire County Council said: "We shared the news a few weeks ago that the road build has been delayed.  We're now able to share our forecast for the final cost of the scheme."
"We're nearing the final phase of the GAR scheme now, and like many major infrastructure projects, which are complex, we've faced lots of challenges since construction began nearly two years ago.  Winter weather, the task of moving over half a million tonnes of earth – and then dealing with what we've found and adjusting our plans – and of course COVID-19, have all presented us with unforeseen issues and extra costs.
"But we're pushing forward to complete this vitally important project now with confidence about our costs and timescales and we're looking forward to seeing the scheme deliver all the benefits that make it so important."
The additional cost is now £8.619m, with an extra £1m contingency fund being allocated also. Half of these additional costs will be funded from Government COVID-19 funding that the County Council has been awarded to help it deliver services during the pandemic.
To put it into perspective the GAR will:
bring about

 

journey time

 

savings and other safety and efficiency benefits worth at least £73 million.
provide access to new high-quality, affordable

 

homes

 

to help people get on the property ladder.
help people make everyday journeys by bus, car and cycle

 

boosting connections

 

to the wider road network and Nottingham city centre while making

 

journeys quicker and safer.
provide stronger links between

 

education and business, ensuring our young people get the best possible opportunities and are fully prepared for the world of work.
We also take our

 

commitment to the environment

 

seriously. As part of the GAR we're planting 430 native trees, increasing woodland by 40% and improving habitats for wildlife. 
Councillor Ben Bradley MP added: "Back in March 2020 we could have halted works, as was the case with many other projects at the time. If we'd done that, the Gedling Access Road would have been many more months behind schedule, but we chose to press on, and that was the right choice.
"We've also experienced some particularly adverse weather during the construction and uncovered underground site issues but the team has worked flexibly to make savings elsewhere to try and keep these costs down.
"In the circumstances, just an extra few months on a project that's been in the pipeline for several decades, delivered during a global pandemic, is a pretty good effort in my view and I am very proud that this administration is the one delivering this for people in Gedling.
"It is a lot of money.  But this is a major scheme being delivered throughout a pandemic and to put it into perspective – the GAR will bring about journey time savings and other safety and efficiency benefits worth at least £73 million."