Nottinghamshire residents and businesses urged to remain vigilant following floods
Wednesday, 25 October 2023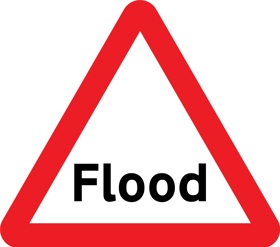 Nottinghamshire residents are being urged to remain vigilant as our communities continue to recover from the extensive flooding and disruption caused by Storm Babet.
A major incident was declared in the county at the weekend following the heavy rainfall, which caused rivers and streams to burst their banks – leaving many homes and businesses under water.  
The severe weather presented the Nottinghamshire Local Resilience Forum (LRF) – a multi-agency partnership made up of local authorities and emergency services – with complex and challenging situations to tackle and overcome.
Since Friday (19 October), the partnership has worked tirelessly to respond to some of the worst flooding the county has experienced and help people in the most need.
This support has included Nottinghamshire County Council providing 2,500 sandbags to flood-hit communities.
The County Council has also supported Bassetlaw District Council in the opening of rest centres and safe places in Worksop and Retford, and its highways teams at Via East Midlands have attended emergency incidents and closed and re-opened hundreds of roads to keep people safe.
More than 500 properties and around 60 businesses have been affected by flooding since Friday and several roads are still closed in Nottinghamshire.
Flood alerts and warnings are also still in place across the county and the LRF is asking people to remain vigilant to flooding and to continue checking the latest weather forecast and travel advice.
Councillor Neil Clarke MBE, Nottinghamshire County Council's Cabinet Member for Transport and Environment, said his thoughts were with residents and business owners affected by the flooding.
He said: "My heart goes out to all those who have been affected by the flooding and I know this has been an immensely challenging and traumatic time for many people in Nottinghamshire.
"I have visited flood-hit areas across the county and seen how our towns and villages have pulled together and shown resilience and true community spirit in their support of each other during very difficult circumstances.
"The weather conditions have improved since the weekend, but I would urge communities to stay vigilant and keep an eye on the latest forecasts, travel advice and flood alerts.
"I would like to thank the emergency services, all the partner agencies and all the local volunteers such as flood wardens, who have provided support to people throughout these terrible floods.
"This support will continue as the situation moves to a recovery process in the coming days and weeks.
"We are closely monitoring the situation and remain ready to respond and support people whenever and wherever necessary.
"We would also encourage residents to check Nottinghamshire County Council's website for information about roads and other services impacted by the flooding – as well as follow advice given by the emergency services. Please stay safe."
Meanwhile, residents whose homes have suffered internal flooding are entitled to a one-off hardship grant of £120 which is intended to provide some immediate relief for essential provisions in the aftermath of the flooding.
To apply for a grant, call the County Council's Customer Service Centre on 0300 500 8080, Monday to Thursday between 8.30am-5pm, and between 8.30am and 4.30pm on Fridays.
The County Council is also providing support for businesses affected by flooding.
Councillor Keith Girling, Cabinet Member for Economic Development at Nottinghamshire County Council, said: "We know how devastating the recent floods have been for the many small and medium sized businesses who are the backbone of the economy in our towns and communities across Nottinghamshire.  
"This is why we are providing support and advice for those businesses which have been affected, as well as hardship funding to help in the interim while insurance claims are being made."
The support available includes:
Business advisory support
Any business which has been affected can email BusinessTeam@nottscc.gov.uk, providing details about their organisation – including postcode – and how they have been impacted. A business adviser will be able to provide advice and signposting.
Hardship fund – business
Small or micro businesses with up to 49 employees are eligible to apply for an emergency payment of up to £300.
For more information about the hardship fund visit Flooding hardship fund | Nottinghamshire County Council.