Notts athletes to share £21,000 of funding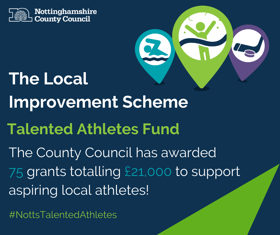 Seventy-five grants totalling £21,000 are being awarded to successful applications from top local athletes and para-athletes to help fulfil their sporting ambitions in the latest round of the Talented Athletes Fund. 

The Talented Athletes Fund, part of Nottinghamshire County Council's Local Improvement Scheme, offers financial help and support to local communities. Nottinghamshire athletes will benefit from grants of up to £400 to help with expenses such as travel, coaching, competition fees and kit.

Councillors on the Communities and Place Committee approved the latest funding for athletes from 20 different sports which included 32 athletes aged 15 and under. 

The fund has awarded over 275 grants with a combined total of £63,000 since the current scheme was launched back in 2018. 

Applications were received from across the county with the most popular sports category (17) coming from ice skating, with athletics and swimming also featuring prominently.

Some of this year's successful recipients share their stories, in separate case studies below, of how they have overcome adversity to succeed in their sports and adapted to finding ways to train throughout the coronavirus pandemic and national lockdowns. They include:

- Wheelchair Tennis player Martha Harris from Bingham
- Swimmer Ethan Potter from Sutton in Ashfield
- Ice Hockey player Faith Laverty from Kirkby in Ashfield
- Athlete Emily Race from Worksop
- Swimmer Fred Buckingham from Stapleford 
- Tri-Athlete Solomon Okrafo – Smart from Cotgrave
- Ice Skater Bryony Negus from Arnold
- Ice Skater Darja Pilace from Mansfield
- Figure Skater Meg McFarlane from Ompton near Ollerton

Councillor John Handley, Vice-Chairman of Communities and Place Committee at Nottinghamshire County Council said: "I am delighted that we are, once again, able to support our fantastic local athletes. Whilst our funding only provides a proportion of what is required when competing at such an elite sporting level, I know it is gratefully received by our young athletes and their families.

"Nottinghamshire has a strong sporting heritage. The volume and high standard of applications received for this latest round of funding further cements our reputation as a sporting county."

To qualify for the funding, athletes must have competed in a sport that is governed by a National Governing Body that is recognised by Sport England. Successful athletes must also have represented their country within the last 24 months and / or be ranked in the top five of their age group.

In addition to their sporting achievements, many athletes who receive grant funding through the Talented Athletes Fund, have given back to their communities through coaching, volunteering and acting as a Sports Ambassador for Nottinghamshire County Council in their community.

Councillor Handley added: "Prospective Olympians and Paralympians of tomorrow have remained determined to fulfil their ambition in their chosen sport and continue to make positive contributions to their local communities despite the challenges the past year has presented them with. The Talented Athletes Fund shows the County Council's commitment to supporting them on their journey to sporting success."
To find out more about the fund visit: https://www.nottinghamshire.gov.uk/talentedathletes
Meet some of the Talented Athletes in Notts:
Martha Harris aged 16 from Bingham. Sport: Wheelchair Tennis
Sixteen-year-old Martha from Bingham is a wheelchair tennis player.
Martha has Osteogenesis Imperfecta, commonly known as brittle bone disease. Her condition often means time away from the court, but she doesn't let it stand in her way, she's become adept at training while injured. Practising her serve with a dog ball thrower and even learning how to play whilst in an air boot or cast.
Determined to keep up her skills and training during the lockdowns, Martha treats the restrictions in place the same way she would any enforced period of being unable to play due to injury, focusing on drill work and strength and conditioning training.
Martha, an advocate of wheelchair tennis, regularly fundraises for charities that promote inclusion in tennis. Having recently helped raised over £650 for the Dan Maskell Trust - the wheelchair squad she trains with did a 5km push to raise money for the charity, whose income has been badly affecting by the pandemic like so many others.
Martha also gives back to the community by volunteering at come and try wheelchair tennis sessions at the Nature Valley Open in Nottingham. She hopes to be able to do her Level 1 coaching course this year.
Martha said: "I'm excited that my application to the Nottinghamshire County Council Talented Athlete's Fund has been successful as I can have more coaching before a summer of tournaments."
Ethan Potter aged 12 from Sutton in Ashfield. Sport: Competitive Swimming
Twelve-year-old Ethan is a competitive swimmer from Sutton in Ashfield.   
Having lost his mother back in Nov 2019 he still applied himself fully to training and became County Champion in March 2020.  He has continued to engage in fitness activities throughout the lockdown. Due to reduced hours in the pool, Ethan has utilised gym and pool facilities at his local leisure centre (when open) though this has been individually led training without his coach.
Ethan often fundraises for his local sports club and local community. Individually he raised £150 for the swimathon, donated food items to local food banks and donated clothing to the John Eastwood Hospice in Sutton In Ashfield. 
Ethan said: "I am really pleased to have been awarded funding from Nottinghamshire County Council, and I'm eager to get back in the pool with the rest of my teammates."
Faith Laverty aged 13 from Kirkby in Ashfield. Sport: Ice Hockey
Up and coming ice hockey player Faith was due to join the England Team in an overseas tournament in March 2020 which was cancelled due to the coronavirus outbreak. Instead of focusing on the negative and lost opportunity Faith has taken the opportunity to develop skills that she could concentrate on while off the ice.
She saved her pocket money to buy a goal for the garden and a new set of roller skates and spends hours skating in the streets, on the park or wherever permitted to enable her to continue training. Alongside regular zoom calls with her coaches, scouring YouTube and social media for free coaching videos and tutorials to follow during the lockdown have helped Faith grow in confidence and ability.
Faith's determination and dedication in this sport she loves has been rewarded by being offered a place on an elite ice hockey academy.
Faith is a volunteer coach for her sports club and supports other young players on the learn to play scheme. She was selected to take part in a charity ice hockey tournament to raise funds for a local hospital charity, although sadly, the event was cancelled due to the pandemic and will be rearranged once restrictions lift.     
Faith said: "I was shocked and excited when I heard I'd got the grant, it's brilliant though because it will help me to keep training. It's been really hard in this lockdown because the rinks are closed again but I'm still training at home as much as I can with online programmes and challenges my coaches set.
"I'm so looking forward to getting back on the ice once the COVID-19 restrictions are lifted and actually playing a game. I miss training, I miss my coaches and I miss my team."
Emily Race aged 20 from Worksop. Sport: Heptathlon Athlete.
Twenty-year-old Emily is a heptathlon athlete from Worksop and is the English Schools Combined Events Champion.
Unfortunately, due to illness and injury Emily missed out on competing at the British Universities and colleges championships in early 2020. Determined, with focus on recovery and getting fit again Emily has been able to hire a spinning bike to use at from home during the lockdown and borrow other equipment to keep her going until restrictions are lifted.
During the lockdown Emily helped organise a fundraiser, a virtual challenge to cover the length of the UK in 24 hours be it running, cycling, walking etc. It raised £4,439 for the NHS. She also organised a volunteering opportunity with Zest community centre, where virtual activity sessions were offered to disadvantaged children in the local community.
Emily said: "I am extremely appreciative to have been awarded this grant and so grateful to have the support of Nottinghamshire County Council, after such a difficult year I feel an opportunity such as this will really make a difference in coming back stronger in 2021!"
Fred Buckingham aged 14 from Stapleford. Sport: Swimming.
Fourteen-year-old Fred is a swimmer from Stapleford.
Fred has had a hearing problem since 2010 which means he has to wear ear plugs in the water. He has learnt to lipread and adapt his learning to overcome the challenges that this can bring. He does not compete in the para swimming and has learnt to cope with starts in galas which were a problem a few years ago.
Fred and the other members of Ilkeston Swimming Club collectively raised approx. £2000 through fundraising efforts so that the club could attend swim camp and train abroad.
Fred's mum added: "Fred is extremely grateful for the recognition of his hard work by Nottinghamshire County Council and the funding will help him enter the competitions to aid his progress within the National Rankings with Swim England." 
Solomon Okrafo – Smart aged 15 from Cotgrave. Sport: Triathlon Athlete
Determined fifteen-year-old triathlon athlete Solomon hasn't let injuries, or the lockdowns get in the way of his training or studies. He credits the nature of his sport and having to be very disciplined for helping him cope with the pandemic and national lockdowns, and has kept a structure to his training and school studies throughout.
Solomon said: "I am GCSE year and therefore I have had to be self-motivated during the months at home to enable me to keep on top of my studies as well as my training regime. I have also encouraged other family members to get out to run and cycle including my disabled sister who now has a tricycle!"
Solomon is a volunteer coach at his sports club helping the head coach deliver sessions to younger athletes, and he also enrolled on a Young Persons activator course in the hope he can help deliver with more sessions.
    Solomon added: "This funding means a lot to me as paying out for equipment over my 3 disciplines can be costly. I hope to use the funding to buy a much-needed new wet suit." 
Bryony Negus aged from Arnold. Sport: Ice Skating
Eighteen-year-old synchronised ice skater Bryony is from Arnold. Last season Bryony was diagnosed with panic attacks after suffering from seizures and fainting, which knocked her confidence and left her not wanting to leave the house. Skating was the one thing that got her back out of the house. Over time she gained her confidence back, and in doing so both her teams won gold at the British Championships and came 10th at the World Championships before the pandemic.
Bryony's biggest fan was her Nana, who sadly passed away from coronavirus last year. Determined to achieve her goals and not break the promise she made her Nana before she passed away, Bryony has thrown herself into virtual coaching sessions with her team via zoom to keep up her training.
Bryony is a volunteer coach and a qualified Level 1 coach. She has been helping raise money for Cancer Research after one of the managers in her team was diagnosed with cancer. So far, the team have raised £2000 for the charity.
Darja Pilace aged 10 from Mansfield. Sport: Ice Skating
Ten-year-old Darja an ice skater from Mansfield.
Darja has kept to a strict training schedule over the past year and during the national lockdowns, having 6-7 fitness and training lessons a week and virtual sessions with her coach. She's also been enjoying daily skating outdoors with special inline roller blades, getting out whatever the weather to try and ensure her skills are not lost for when she can get back onto the ice.
Keen to encourage others to get involved in ice skating, Darja often invites friends and classmates to local competitions and fun skate sessions where she teaches basic skills. (before coronavirus)
Darja also fundraises for her local sports club and local charities. She previously helped her club raise money for a harness for jumps on the ice.
Meg McFarlane aged 17 from Ompton. Sport:  Figure Skating
Seventeen-year-old Meg is a figure skater from Ompton near Ollerton, she won silver at the Special Olympics World Winter Games in Sweden last year.
Meg overcomes adversity every day. There are many health challenges that Meg continues to face, and she uses her love of skating as a way to deal with these.
The restrictions placed on ice skating during the lockdown have been extremely challenging for Meg, and it was a struggle for her to cope with the break in routine. The skating community had to wait longer than other sports to return to the ice after the first lockdown.
Meg is currently focusing on off-ice coaching via Zoom meetings and working on her strength and fitness as much as possible so she's ready for when the rinks reopen.
    Meg volunteers at her local leisure centre to help with any open days to help raise the profile of the opportunities that are available locally for people with disabilities and contributes to fundraising activities for her local club. 
ENDS