Residents advised to evacuate homes after two severe flood warnings issued in Retford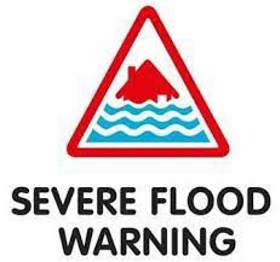 People in parts of Retford are advised to evacuate their homes after the Environment Agency issued severe flood warnings. 
The warnings apply to communities along the River Idle at Retford, Eaton and Gamston as well as West Retford and Ordsall.
This Severe Flood Warnings have been issued because of flooding in Thrumpton, Retford, as a result of Storm BABET.

Severe flood warning for River Idle at West Retford and Ordsall - GOV.UK (check-for-flooding.service.gov.uk)
Residents are advised to prepare to evacuate.
Flooding continues and is set to worsen with record levels expected.  A severe flood warning means there is a threat to life and is the highest level of flood warning that can be issued.
Areas most at risk are Poulter View, Meden Way, New Inn Walk, Thrumpton Close, Maun Close, Thomas Street, George Street, Swans Quay and Gala Way.
River Idle at West Retford and Ordsall
A Severe Flood Warning has also been issued because of flooding at Darrel Road as a result of Storm BABET. Flooding continues. The area most at risk is Darrel Road in Retford.
No further significant rainfall is forecast, however river levels continue to rise due to upstream watercourses (Rivers Maun, Meden and Poulter) feeding into the River Idle. We expect river levels to continue posing a risk to life until Tuesday, 24/10/23.
Residents in all of these areas are being asked to prepare to evacuate their homes. Emergency services are supporting residents to evacuate where needed. Please make sure you leave your homes when directed to do so.  A rest centre has been set up at Retford Leisure Centre for those who need it. This is a safe place for residents to take shelter.
We are closely monitoring the situation. Environment Agency incident response staff are liaising with emergency services and local authorities.
Stay away from flood water and do not take risks that may endanger yourself and others. Please follow the advice of the emergency services and first responders on the ground.
Advice and information is also available through Floodline on 0345 9881188.
This Severe Flood Warning is now in force until further notice.
Severe flood warning for River Idle at West Retford and Ordsall - GOV.UK (check-for-flooding.service.gov.uk)
ENDS