Mobile COVID-19 testing in Newark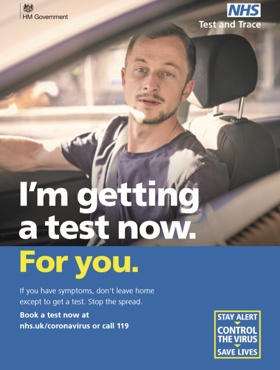 People in Newark and Sherwood with COVID-19 symptoms will be able to book a test at a Mobile Testing Unit from Monday 10 August. Bookings can be made online or by phoning 119 from Saturday 8 August onwards.
The County Council is working with Public Health England and other partners to arrange the testing following an increase in COVID-19 rates in Newark and Sherwood.
The unit, which will be based at the lorry park behind Castle House in Newark (NG24  1BY) from Monday 10 August for three days, will allow people with symptoms to be tested quickly and easily without having to travel to testing centres which are currently based some distance away.
Jonathan Gribbin, Director of Public Health at Nottinghamshire County Council, said: "Rates of COVID-19 were decreasing in Nottinghamshire. But that is no longer the case and it is causing us some concern. COVID-19 has not gone away and what we are seeing now is an increase in new cases.
"We are taking a proactive approach by working with our partners to offer this Mobile Testing Unit to people in Newark and Sherwood. We also know that it can be difficult for some people to travel to one of the current testing centres in Nottingham or Mansfield, so we believe that this approach will make things easier for Newark residents who have symptoms to get tested.
"It is still critical that everyone follows social distancing guidance in full, including guidelines about car sharing, washing our hands regularly, wearing face coverings, self-isolating and quickly getting a test if we develop symptoms."
Find out more about the symptoms of COVID-19. It is important to get tested within the first five days of having symptoms.
Testing is free and simple. Anyone with symptoms can book online or by phoning  119 from Saturday 8 August onwards.
FAQs
When can I get a test?
You can get a test;
for yourself, if you have coronavirus symptoms now (a high temperature, a new, continuous cough, or a loss or change to your sense of smell or taste)
for someone you live with, if they have symptoms
if you have been told to have a test before you go into hospital, for example, for surgery
if you live, work or study in an area with a coronavirus outbreak
How can I access a test?
at a test site today and get your result tomorrow
with a home test kit
What does the test involve?
The test involves taking a swab of the inside of your nose and the back of your throat, using a long cotton bud. You can do the swab yourself (if you are aged 12 or over) or someone can do it for you. Parents or guardians have to swab test children aged 11 or under.
How do I get a test for someone else?
If other people you live with have symptoms, you can order tests for up to 3 of them.
If you're applying for someone who's 13 or over, check that they're happy for you to get a test for them.
What should I do after getting the test?
If you're getting a test because you have symptoms, you and anyone you live with must self-isolate until you get your result. This also applies to anyone in your support bubble (where someone who lives alone - or just with their children - can meet people from 1 other household).