'Miss Independent' in her own flat for Christmas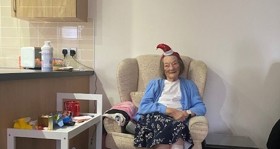 A 97-year-old lady has been given the nickname 'Miss Independent' after successfully settling into a new home of her own.
Joyce White was originally admitted to Lings Bar Hospital  in May after a fall but was unable to return home, so went into a care home for short term care. Due to the pandemic, it took longer than usual to find her somewhere suitable to live and Joyce became settled at the home.
In November, an extra care* property became available at St Andrews in Gedling. The County Council's social care team encouraged Joyce to give it a try, as she would have support from the on-site care team whenever she needed it and, best of all, would be able to have visits from her granddaughter.
Joyce moved into her flat last week and her granddaughter has visited her almost every day since, which they both enjoy very much.
Joyce said: "I'm still getting used to life at St Andrew's but I enjoy being able to be independent and eating what I like, when I like."
Councillor Tony Harper, Chair of Adult Social Care and Public Health Committee, said: "It's lovely to hear stories where people are regaining their independence, especially when it brings them closer to their loved ones. Well done to Joyce for taking that brave step and I'm pleased that it's working well. But also credit to our social care staff who encouraged her that she could do it."
*Extra care housing allows people to live as independently as possible with the reassurance of an on-site care team available 24/7. For more information visit www.nottinghamshire.gov.uk/extracare