Huge investment for green flood defences in Mansfield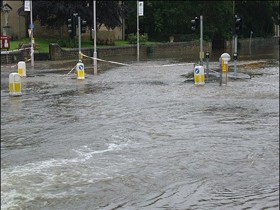 Communities in Mansfield are set to benefit from £76 million of funding secured by Severn Trent Water from Ofwat to deliver a flood resilience programme.
As the Lead Local Flood Authority, the county council's Flood Risk Management Team has worked closely with Severn Trent Water's Green Recovery Project Team to develop the funding proposals.
Natural measures will be used across Mansfield to improve the management of surface water in times of heavy rainfall and storm conditions to reduce the risk of property flooding.
Measures are likely to include the creation of new green spaces and rain gardens, tree planting, installing planters in urban areas and improving the absorption of pavement surfaces.
Surface water will also be stored in detention basins, which are landscaped areas designed to hold water in times of heavy rainfall, before draining it back into a nearby watercourse when levels have decreased.
Councillor Ben Bradley MP, Leader of Nottinghamshire County Council, said: "We are delighted that this funding has been secured to boost flood resilience in Mansfield.
"This is a great example of how partnership working can deliver benefits to residents in Nottinghamshire.
"Now that the project has been given the go-ahead, our flood risk management team will continue to work in partnership with Severn Trent Water to share their knowledge of flooding mechanisms in Mansfield and expertise in delivering large scale natural flood risk management projects across the county.
"The programme will trial the delivery of what is called blue/green infrastructure at a large scale and this is something that has not yet been seen in this country.
"The scheme aligns perfectly with our place ambitions and our commitment to green recovery and we look forward to moving forwards with Severn Trent Water to deliver this."
Shane Anderson, Severn Trent Strategy and Regulatory Director, said: "We're really excited that Ofwat has given us the early green light to go ahead with these exciting plans for Mansfield.
"We have focused the project in Mansfield because our modelling out to 2050 identifies a need to do something different, the local landscape is favourable to deploying nature based solutions and there is a clear opportunity to deliver wider benefits to the local community and environment."
"While we're still working through all the detail, once finalised, this project is set to be the largest trial of its kind in the UK. It will make a material difference to not only our operations in the town, but also the people and environment of Mansfield.
"At the same time, it should act as a blueprint for how to best manage future surface water pressures across the breadth of our region and likely further afield.
"Nature based interventions will generate benefits that are wider than our direct sewerage obligations, therefore we are looking forward to working in partnership with other responsible organisations such as Nottinghamshire County Council to make sure that the opportunities are maximised."