GAR: Works on Burton Road set to resume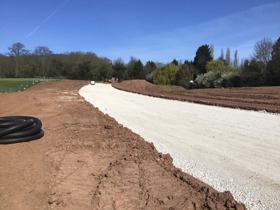 Works on the Gedling Access Road are set to accelerate once more as a key phase on Burton Road gets the go-ahead.
Construction works on a new traffic signalled junction with the A612 were paused in March due to the uncertainties of the coronavirus outbreak but are now set to begin on 11 May.
The works will require the closure of Burton Road for approximately seven months to allow for the new junction to be constructed.
This closure will see a diversion route in place via the A612 Trent Valley Road and the A6211 Colwick Loop Road to Shearing Hill, with only buses able to use Stoke Lane as a through route to maintain journey times.
While works on the Burton Road closure and junction construction were paused, other works on site have remained ongoing including earthworks and drainage along the 3.8km route of the GAR.
Councillor John Cottee, Committee Chair for Communities and Place at Nottinghamshire County Council said: "We are pleased that we are now able to move forward with this key stage in the construction of the Gedling Access Road.
"The decision was taken to pause works in March to ensure the safety of staff and residents, and this will be closely monitored once works begin.
"The dry weather throughout April allowed us to make significant progress on other areas of the construction which are crucial to the project timeline.
"We appreciate that the closure of Burton Road will cause some disruption to motorists and local residents and we would like to assure that every effort to minimise disruption throughout the project is being made.
"We would encourage members of the public to sign up to our Gedling Access Road email bulletins for the latest news and information, including road closures."
For further information about the Gedling Access Road and to sign up to receive email bulletins, please visit: www.nottinghamshire.gov.uk/gar