Former military councillors share their support for the Armed Forces this Remembrance Day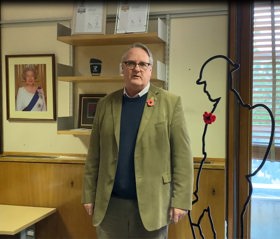 This year marks 100 years of the Poppy Appeal and at Nottinghamshire County Council we are very fortunate to have former military councillors who understand the importance of the appeal and of Remembrance Day.
As the Armed Forces Champion, Councillor Keith Girling is the Armed Forces Families' voice within the county council. Councillor Girling served for 18 years as a Grenadier Guard, he said: "Remembrance Day is about remembering the sacrifices made throughout history, I know it tends to focus on the First and Second World Wars, but the sacrifices being made all the time by the forces even now."
"It is the nation's way of showing respect to those people that have given the ultimate sacrifice. It's also there to make sure that we learn lessons from history so that we don't repeat them."
Remembrance Day is an important day, but it can be difficult for so many veterans and families. Armed Forces Advocate, Councillor Johno Lee wants to change perceptions for the younger veterans, he said:
"By me being in this very privileged situation where I am the Armed Forces Advocate for the county council, I need to do my bit. By making sure that the younger veterans and the veterans coming through in the future feel engaged, they're represented and they're aware of what support is available."
"We are a veteran family and as a family we have to push each other out of our comfort zones to a certain extent and be there for each other, and that's what we do at Nottinghamshire County Council."
Councillor Lee lost a leg in 2007 whilst serving one tour in Afghanistan. Before that, in 2003 and 2006, he served two tours in Iraq, as well as other postings around the UK.
Remembrance Day is a great way for residents to show their support to those serving, veterans, their families and those that have given the ultimate sacrifice.