Follow the Full Council meeting live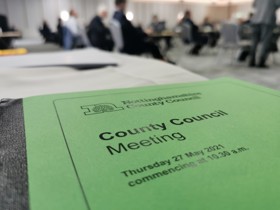 Nottinghamshire County Councillors are meeting today for the first meeting of the Full Council's new administration.
A new Council Chairman, Councillor Mike Quigley, and Vice Chairman, Councillor Rodger Jackson, have been elected.
Today will also see the election of new Committee Chairs who will take charge of key council services on behalf of the new administration.
The meeting is taking place at the East Midlands Conference Centre due to COVID-19 restrictions, but you can also follow coverage live on our YouTube channel.