County council welcomes largest cohort of graduate trainees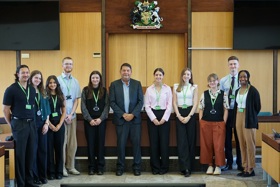 Ten university graduates have become the latest cohort of trainees to join Nottinghamshire County Council's successful Graduate Development Programme.
The scheme was launched by the county council in 2018 to identify, develop and retain suitable people as part of a wider approach to talent management within the organisation.
It offers a wide range of learning and development opportunities – including specialist project management training; experience of adult and children social care; public health experience and access to mentors at senior management level.
Forty graduates have been recruited since the programme started six years ago, with the latest group being the largest cohort to join. Each trainee is guaranteed a job with the county council on successfully completing their two-year apprenticeship.
Councillor Gordon Wheeler, Cabinet Member for Personnel, says the latest cohort was chosen following a rigorous recruitment process and is looking forward to following their progress as trainees.
He said: "As I have said many times before, the Graduate Development Programme truly is amazing and forms an integral part of our commitment to nurture those coming to us from university, develop their careers and ultimately retain them within the organisation.
"The fact that this year's cohort is the largest number we've recruited demonstrates how invested we are in the programme and how important it is to make sure graduate talent remains in Nottinghamshire.
"The graduates are our future and there could well be a potential chief executive of this council among the 10 trainees.
"Having met and spoken with all the trainees, I am really impressed with their enthusiasm for working for the county council and, by working across different teams and departments, they will develop keys skills and behaviours over the duration of the programme.
"In addition to this, previous cohorts have highlighted the fantastic support they received as trainees – and I know this will be no different for the latest group of graduates to join us.
"I am looking forward to seeing them develop within the council's framework and I hope each and every one of them has a successful and lengthy career with us."
The 10 graduates to join the programme are Colette Burton, Elsie Marcus, Sam Fletcher, Katie Canfer, Emily Holmes, Holly Passey, Joshua Eland, Paris Ellis, Neve Bradley and Alex Newport.
For more information about the Graduate Development Programme, go to Learning and Development | Nottinghamshire County Council.