Community Repaint Nottinghamshire celebrates brightening their community for 10 years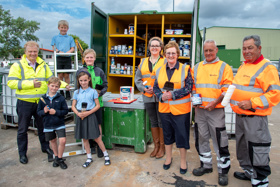 Nottinghamshire County Council and Veolia, its waste and recycling partner, are celebrating ten years of their Community RePaint scheme, and it seems fitting that similar to a wedding anniversary the  10th year is tin! The celebrations have been delayed by a year due to the pandemic.
The county council first joined the Community RePaint Network in June 2011 and operates a paint reuse scheme at four recycling centres. Nottinghamshire residents can drop off their leftover paint (providing they are registered to use Nottinghamshire County Council's Recycling Centres), and  recycling centre staff will prevent good quality, reusable paint from going to disposal. The paint is then redistributed to individuals, charities and community groups for free, to help brighten homes and community spaces.
Since its start, Community RePaint Nottinghamshire has prevented over 69,000 litres of paint from going to disposal - that's enough to repaint the Trent Bridge seven times! This has coloured the lives of over 110,000 people in the Nottinghamshire County Council area and equates to a saving of 186,300kg CO2e - that's the same as a petrol car driving around the entire circumference of the Earth 27 times.
Councillor Neil Clarke MBE, Cabinet Member for Transport and Environment at Nottinghamshire County Council said: "It's amazing that something as simple as reusing paint, which would otherwise go to waste, has such a huge impact on emissions. What's even better is that so many organisations and individuals in Nottinghamshire have directly benefited from the scheme - from brightening up a child's bedroom to painting an entire church."
Lea Hawkes, General Manager for Veolia Nottinghamshire said: "We're delighted to provide such a valuable service for the people of Nottinghamshire. The fact that we've been in operation for over ten years is testament to its success. The booking process is straightforward and collecting paint from any of our four participating sites is easy."
Community RePaint Nottinghamshire is part of the UK wide Community RePaint network, a network of paint reuse schemes working to solve the issue of the estimated 50 million litres of paint that go to waste in the UK each year. In 2021, the schemes in the network collected over 481,000 litres of paint and redistributed over 365,000 litres of paint to individuals, families, community groups and charities, adding colour to the lives of over 337,000 people.
Martin Pearse, The Community RePaint Network manager, reflected: "Community RePaint Nottinghamshire have done a fantastic job over the last 10 years. The celebrations provide a great opportunity to recognise all the hard work that has gone into making the scheme such a success and to reflect on all their achievements which have brightened community spaces and homes over the years. We are excited to continue supporting the scheme and look forward to seeing what they accomplish over the next 10 years and more."
If you are a householder within Nottinghamshire County Council (excluding Nottingham) and have leftover paint in your home that you would like to be reused, you can drop your paint off at the following recycling centres: Warsop, Calverton, Newark and Beeston. Remember, you must be a registered site user to take any unwanted paint to our sites - to register please visit: https://www.nottinghamshire.gov.uk/waste-and-recycling/recycling-centres/using-our-recycling-centres/register
Those who have benefited from the scheme include:
Mansfield District Child's Protection Team - Nina Middleton, Assistant Social Worker: "I collect paint to give to the families that I work with. Very often they struggle with finances and paint is often out of reach to their budget. Providing paint from this free service is absolutely vital in improving standards for our vulnerable children."
Southwell Methodist Church - Paul Birks, Resource Team Leader: "This scheme has been instrumental in improving the condition of our Church. I have been able to update the old facade, which dates back to 1839, and also refresh much of the interiors."
Bleasby Primary School - Angela Bradbury, School Governor, explained: "The paint from your scheme came in very handy when we organised a DIY weekend to refresh a few tired areas in our school grounds. The guy who helped us pick our paint was really helpful which made the process so easy. We have lots of pupils who are enthusiastic about environmental issues and sustainability so it's great to put these ideas into practice."
Surplus paint from traders is not accepted at any of the Community RePaint schemes or any of the County's Recycling Centres.
If you need paint to redecorate your home, or if you are a charity or community group in need of paint for a project, you can visit any of the 4 named recycling centres - to do this, you need to book a slot online https://www.veolia.co.uk/nottinghamshire/Paint
- Ends  -
Editors notes:
About the Community RePaint network

What is Community RePaint? Community RePaint schemes collects leftover paint and redistributes it to individuals, families and communities in need, improving the wellbeing of people and the appearance of places across the UK. In doing so the Community RePaint network provides social, environmental and economic benefits.
How does Community RePaint work? Paint is sorted and stored at the schemes' premises and re-distributed to local charities, community and voluntary groups and individuals. 
Who runs Community RePaint? Community RePaint is managed by Resource Futures, an employee-owned, non-profit distributing environmental consultancy. The Network has been sponsored by Dulux since its inception in 1993 and forms part of Dulux's ongoing sustainability programme.
Contacting Community RePaint communityrepaint.org.uk includes a postcode search, which members of the public can use to find their nearest point for donating paint or to contact their nearest Community RePaint scheme if they need paint. Alternatively, call: 0117 914 3452 or email: repaint@resourcefutures.co.uk