Nottinghamshire Recycling Centres Christmas and New Year Opening Hours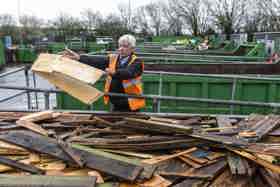 Nottinghamshire residents are reminded that opening hours at the County's recycling centres change at Christmas.
Veolia (Nottinghamshire County Council's recycling and waste contractors) will be running normal opening hours (8am – 4pm) over the festive period apart from Christmas Day, Boxing Day (26 Dec) and New Year's Day, when the sites will be closed.
Christmas trees, unwanted or broken electrical items including Christmas lights, glass bottles, and excess cardboard and other materials can all be recycled at the sites. Please remember that your recycling bin at home should only contain cans, tins, paper, cardboard and plastic bottles, yoghurt pots and margarine tubs.
Top tips on how to make your Recycling Centre visit as easy as possible:
Sort your waste into different types before you set off - your visit will be quicker, and more will be recycled.
If you're not sure where to put something, ask a member of staff who will be happy to offer advice.
Wear sensible footwear when visiting.
Children and animals must stay in your vehicle at all times, for their safety.
Please adhere to social distancing measures on-site to keep everyone safe.
If you're going to the West Bridgford site over the festive period, make sure you book in advance online at.
www.nottinghamshire.gov.uk/waste-and-recycling/recycling-centres/book-a-slot-to-visit-west-bridgford-recycling-centre

Recycling Centre Locations
Beeston Recycling Centre - Lilac Grove, Beeston, NG9 1PF
Bilsthorpe Recycling Centre - Brailwood Road, Bilsthorpe, NG22 8UA
Calverton Recycling Centre - Hollinwood Lane, Calverton, NG14 6NR
Giltbrook Recycling Centre - Gilthill, Giltbrook, NG16 2HR
Hucknall Recycling Centre - Wigwam Lane, Hucknall, NG15 5SZ
Kirkby Recycling Centre - Sidings Road, Lowmoor Industrial Estate, Kirkby-in-Ashfield, NG17 7JZ
Mansfield Recycling Centre - Kestral Park, Kestral Road, Mansfield, NG18 5FT
Newark Recycling Centre - Brunel Drive, Newark, NG24 2EG
Retford Recycling Centre - Hallcroft Road, Retford,DN22 7LE
Warsop Recycling Centre - Oakfield Lane, Warsop, NG20 0JG
West Bridgford Recycling Centre - Rugby Road, West Bridgford, NG2 7HA
Worksop Recycling Centre - Shireoaks Road, Worksop, S80 3HA
Don't forget to check with the local District / Borough council regarding any changes to kerbside bin collections over the Christmas period.
ENDS