Adoption East Midlands supports National Adoption Week 2023 and urges people to consider adoption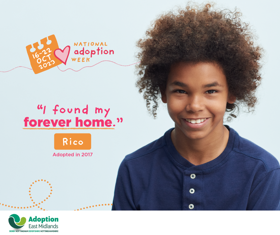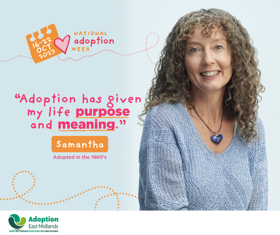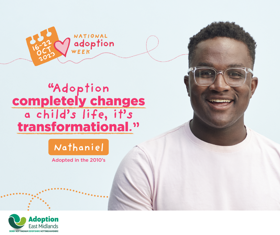 Adoption East Midlands and Nottinghamshire County Council are proudly supporting #NationalAdoptionWeek.
This year's campaign from You Can Adopt celebrates different generations of adopted people to show how adoption has changed through the decades and to encourage potential adopters to come forward to change the life of children who are still waiting for a permanent home.
A powerful set of portraits captured by royal, fashion and portrait photographer Philip Sinden - who was adopted himself in the 1970s - have been released.
The portraits show striking imagery of eight different people who were adopted between the 1960s-2010s, and bring to life how adoption has shaped, and continues to shape, their lives whilst highlighting how adoption has changed over the years.
The campaign also includes a short film that shines a spotlight on the positive impact adoption has had on the individuals' lives, and the strides made in the sector to put children and their sense of identity at the heart of the adoption journey.
Each year, Adoption East Midlands needs to find permanent homes for around 150 children. If you, or someone you know, is thinking about adopting, enquiring with Adoption East Midlands' dedicated team is the first step to what could be a life changing journey.
Jake and Oli, a couple from the LGBTQ community who have adopted two children through Adoption East Midlands, spoke about their experience and said: "Having adopted two dual heritage children with additional needs, we realise first-hand the importance of providing a loving and nurturing home for children, especially those who may typically wait longer to be adopted.
"The adoption process is certainly a rollercoaster ride filled with lots of different emotions. But being parents to our boys is truly amazing and rewarding and we wouldn't change it for the world. For anyone considering adoption, I would say just be open minded and take your time, it's definitely worth it.
"Adoption East Midlands supported us throughout the whole process. They really get to know you as individuals and tailor the support to meet yours and your children's needs".
Shelagh Mitchell, Group Manager, Adoption East Midlands, said: "This National Adoption Week, we want people to find out more about adoption. People from all walks of life can make wonderful adoptive parents who could provide a loving, stable home for young people who need them.
"We are urging people to come forward and find out more about adoption so that local children can find the right adoptive family and grow and thrive. Becoming an adoptive parent gives you the chance to be a part of that and change a child's life for the better.
"If you are thinking about adoption, or would just like to find out more, I would encourage you to get in touch today, or join one of our information events where you can ask questions, have an informal chat with staff and hear the experiences of those who have adopted with us".
Nottinghamshire County Council's Cabinet Member for Children and Families, Councillor Tracey Taylor, said: "We are once again extremely proud to be supporting National Adoption Week. There is still a huge need for more people to come forward to adopt and I would urge anyone who is considering adopting to get in touch with our team at Adoption East Midlands and find out more about the variety of support and services available to help you on this incredible journey".
If you wish to consider adopting, call 0115 804 4567 or visit adoptioneastmidlands.org.uk
Or join our upcoming online information event on Tuesday, 31 October from 12pm to 2pm. All future event details can be found on our events page.