A new dawn for Newark schools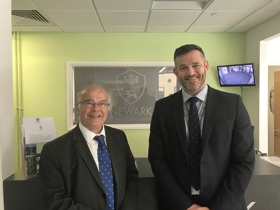 Parents, teachers and pupils in Newark are celebrating now that all three secondary schools have been rated 'Good' by Ofsted. It is the first time that all three schools have been rated 'good' for at least ten years, since when the Grove became Newark Academy.
Newark Academy, Magnus Church of England Academy, and Newark Orchard School have all made great progress since previous Ofsted reports, which found them to require improvement. Newark Orchard School has been rated 'good' consistently since it opened, besides requiring improvement in 2017, and is now rated as good once again.
Councillor Philip Owen, Children and Young people's Committee Chairman said: "This is excellent news for all parents in Newark and represents a big step forward for children's education in our area.
"I was pleased to visit all three schools recently to congratulate them on their recent success. Nottinghamshire County Council aims to have every child in our region attending a school rated 'Good' or better by Ofsted, and this is a significant step towards that goal."
"These schools are now recognised as good schools and are in a great position to become outstanding in the not-too-distant future."
The inspections, which took place earlier this year, praised strong leadership at all three schools, effective teaching, and high aspirations. The reports also recognised good behaviour and found that children were happy and well cared for, with high expectations of pupils.
Applications for secondary schools are currently open, with Newark parents able to express a preference for the good schools online: www.nottinghamshire.gov.uk/education/school-admissions/apply-for-a-school-place
Andy Seymour, Headteacher at Newark Academy, said: "We are delighted to have received an Ofsted report that clearly recognises our passion, care and commitment in providing our community with a great local school, where our pupils are cared for and supported in a way that helps them to be the very best they can be.
"The unrelenting dedication and effort my staff have shown over the last two years has transformed the school into one the town can justifiably be very proud of."
Anna Martin, Principal at Magnus Church of England Academy, said: "Since joining the school in September 2016 I have had one goal in mind; to build a great school for a great community.
"I have made it my mission to grow Magnus Academy into a school the community is proud of and one in which Newark can have confidence.
"The recent Ofsted report acknowledged the dedication of the team at Magnus to provide the best educational experience for our students both academically and for their personal wellbeing and development."
Margot Tyers, Headteacher at Newark Orchard Special School, said: "These are exciting times for us all at Newark Orchard School. I am proud of the accomplishment Orchard school has made, as shown in our recent Ofsted inspection.
"We are also looking forward to the completion of the new school next year, which will allow us to provide excellent opportunities for our young people and make the most of the fantastic new facilities."
The new £15million premises for Newark Orchard School, which includes Newark Day Service Centre, are due to open in April 2020.
__________________________________________________________________________________________________________
To see Councillor Owen's visit to the schools in Newark, please watch our video.